Dr Tony Fooks talks about World Rabies Day (WRD 2016) which takes place today (28 September 2016) and highlights some of the Animal and Plant Health Agency's rabies work.
WRD 2016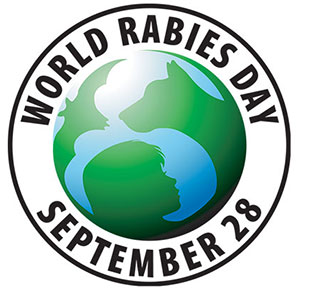 In 2007, The Global Alliance for Rabies Control (GARC) initiated World Rabies Day, as a global opportunity to focus on rabies education and advocacy. The overall vision was to promote awareness about rabies, especially for those vulnerable people who live in a rabies-endemic country, and who are at daily risk of exposure to rabies virus.
World Rabies Day 2016 (WRD 2016) is focusing on the global elimination of rabies with a particular emphasis of raising awareness of dog-mediated rabies. The theme for WRD 2016 is 'Rabies: Educate. Vaccinate. Eliminate'. More information about GARC and World Rabies Day is available on the GARC website.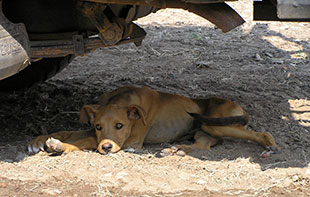 In order to facilitate the global elimination of dog-mediated rabies, The World Organisation for Animal Health (OIE), The World Health Organisation (WHO) and The Food and Agriculture Organisation (FAO) signed a tripartite agreement to co-operate in eliminating rabies globally by 2030.
Rabies and APHA
At APHA I lead the Wildlife Zoonoses and Vector-Borne Diseases team. As an OIE Reference Laboratory and WHO Collaborating Centre for rabies, we are involved in work to identify and control endemic and exotic diseases and crucially, we provide an international reference laboratory for many animal diseases including rabies.
Our OIE Reference Laboratory for rabies has a remit to undertake surveillance and formulate strategies to control rabies in rabies-endemic countries thereby reducing the possibility of rabies reoccurring in Europe and in particular preventing a re-introduction of rabies to the UK.
The UK remains rabies free, although rabies is still responsible for the deaths of thousands of people in resource-limited countries. Advances in our understanding of rabies have increased and the improvements in control strategies continue at a rapid pace. Rabies control is a dynamic field, and we are developing new approaches to combat rabies virus in both animals and humans.
At APHA we are committed to maintain our position as a leading global scientific research organisation with fundamental studies on rabies. Our translational research forms a key capability in understanding how rabies evolves and how new variants of rabies virus might emerge in the future. By understanding this paradox, our scientists are developing new strategies to diagnose and ultimately to control the disease.
The 'One Health' approach
In collaboration with international organisations our scientists are dedicated to protecting the rabies-free status of the UK and preventing the re-introduction of rabies into existing rabies-free regions of Europe. We collaborate with other OIE reference laboratories, WHO collaborating centres and academic researchers in combatting rabies.
Our strategic approach is aligned with the overall vision for canine-rabies elimination that focuses on a multi-disciplinary initiative, termed the 'One Health' approach. In working together, the elimination of human rabies transmitted by dogs in rabies-endemic countries should be a realistic goal by 2030.
International Profile
To celebrate WRD 2016 I will attend the Rabies Meeting in Novi Sad, Serbia where I will give a talk about the history of emerging lyssaviruses in Europe and the risk posed from emerging rabies virus variant being transmitted to a new species. This meeting coincides with the 95th anniversary (1921 – 2016) of the foundation of The Pasteur Institute in Novi-Sad, Republic of Serbia.
Immediately afterwards, I travel to Pulawy, Poland, to spend the weekend in a consortium meeting as part of the EU-funded  ASKLEPIOS (Advanced Studies towards Knowledge on Lyssavirus Encephalitis Pathogenesis Improving Options for Survival) project.
Thereafter it is back to London for a collaborators meeting at ZSL-London Zoo with colleagues from the UK, France, Ghana and the Netherlands to discuss joint studies in understanding the dynamics of Lagos Bat Virus (a bat variant of rabies virus) in fruit bats (Eidolon helvum) from West Africa. This work is published in Scientific Data.
If you are interested in more details, below are examples of some of the rabies work we are currently involved in including links to scientific papers.
---
Discovery of new lyssavirus in Indian flying foxes could be the missing link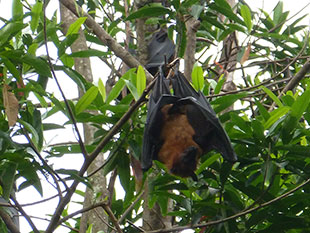 4 bat brain samples from Sri Lanka were submitted in 2015 as part of a collaborative project and the discoveries made brought our research team closer to answering a long unanswered question.
All lyssaviruses cause the disease rabies. Clinically, the disease is the same regardless of the lyssavirus involved, but genetically the viruses are very different with different host reservoirs and geographical locations.
The lyssavirus that is transmitted in dogs is RABV (Rabies Virus) and it is detected on every continent (apart from Antarctica). RABV is also transmitted by bats, but only in the Americas. This has puzzled rabies researchers for years particularly because it is believed that dog rabies was introduced in the Americas by Europeans when they discovered the 'New World'.
Diagnostic testing of the four bat brains confirmed the presence of a new lyssavirus which has been called Gannoruwa bat lyssavirus (GBLV) after the region where the bat colony was located. Using our state-of-the-art sequencing facility, results showed that this virus is most closely related to RABV and is the closest ancestor to terrestrial RABV found in bats outside of the Americas that we know to date.
More work is underway to investigate the relationship between the two lyssaviruses. This will help us understand how the viruses evolve and adapt.
Our findings were published in the Emerging Infectious Diseases in August 2016.
---
Two EBLV-2 infected bats detected in the North of England
In August 2016, 2 bats found at sites in the North of England tested positive for European Bat Lyssavirus type-2 (EBLV-2), a genetic variant of rabies virus. The first bat was found in North Yorkshire. The species of the bat was confirmed morphologically as a juvenile female Daubenton's bat (Myotis daubentoni). A brain sample from the bat was positive by both the fluorescent antibody test (FAT) and a lyssavirus-specific reverse transcriptase polymerase chain reaction (RT-PCR) test. This latter assay confirmed that the virus was EBLV-2. The virus was subsequently isolated from the sample.
The second bat was found by a fisherman in Northumberland. The carcass was confirmed as an adult, male, Daubenton's bat. As above, the FAT on brain tissue confirmed that the bat was positive for lyssavirus and RT-PCR demonstrated the virus as EBLV-2 within 8 hours of receipt of the sample.
The presence of EBLV-2 in bats does not affect the rabies-free status of the UK.
Our findings were published in The Veterinary Record in September 2016.
---
First test of oral rabies vaccine brings hope to the world's rarest canid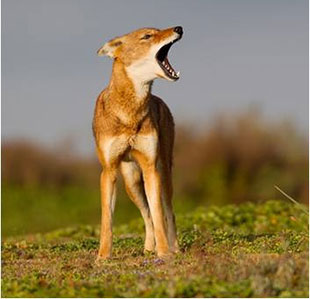 We were involved in field trials of an oral rabies vaccine in Ethiopian wolves, Africa's most threatened carnivore and the world's rarest canid. These were the first ever trials conducted in wild populations of an endangered carnivore and the preliminary results are very encouraging.
The trials, undertaken in the Bale Mountains of Ethiopia, were led by the University of Oxford in collaboration with the Ethiopian Wildlife Conservation Authority and our rabies scientists.
Rabies kills people, domestic livestock and wild animals worldwide and is particularly prevalent in the highlands of Ethiopia, where the virus is frequently transferred from domestic dogs to their wild relatives, the charismatic Ethiopian wolves. These wolves are now rarer than giant pandas and are unlikely to sustain the immediate and present threats rising from growing numbers of dogs and people living in and around their mountain enclaves
These preliminary trials showed that the oral vaccine could offer a cost effective, safe and proactive approach to protect the wolf population. It also provides proof-of-principle for the use of this approach in wild canids.
More information about the trials and the research can be found in the journal Vaccine.
---
OIE Laboratory Twinning project supporting rabies control in India
Our researchers, in collaboration with the OIE Reference Laboratory at the Centre of Disease Control and Prevention (CDC) in Atlanta, USA, have been awarded a three-year OIE Laboratory Twinning project with the remit to build capability in diagnosing animal rabies at the Veterinary College in Bangalore, India.
It is estimated that there are around 55,000 human cases of rabies each year worldwide. In 2015 the Global Alliance for Rabies Control reported that India accounted for 35% of human rabies deaths worldwide. There are approximately 30 million free-roaming dogs in India and they play an important role in transmission of the disease to human and domestic animals. Elimination of rabies in dogs would greatly reduce the human burden of rabies leading to a significant reduction in human mortality.
To achieve this, there is an urgent need to build laboratory capacity in rabies-endemic countries such as India. The twinning project awarded to APHA and CDC will help to realise this. The project will address the following objectives:
Increase knowledge and preparedness for rabies control and prevention
Harmonise methods for rabies diagnosis in Indian provincial laboratories that comply with OIE standards
Establish an OIE Reference Laboratory for rabies in India. The team published their findings in The Veterinary Record in September 2016.
The first OIE Laboratory Twinning workshop was held in July 2015 where a team of scientists from APHA and CDC visited the dedicated Rabies Diagnostic Laboratory that has been established at the Veterinary College in Bangalore, India. The team in India are now addressing the findings and a follow-up visit by the APHA/CDC team will take place in early 2017.