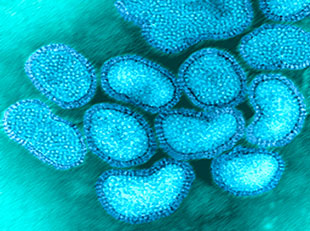 Flu comes and goes in many guises but little did we know that the detection of H5N8 avian flu in swans in Hungary in October was to be the forerunner of one of the largest epizootics of this disease ever recorded in Europe.
Presently, 25 European countries are affected with many outbreaks in poultry and numerous detections in wild birds found dead.
Why is this happening?
The highly pathogenic H5N8 virus is an extremely 'fit strain' that can rapidly kill but is still able to efficiently transmit between a variety of avian species. The virus is harboured by wild birds which can carry and spread it over long distances.  Despite extensive measures, including poultry housing orders in many EU countries, there is still uncertainty about the duration and extent of the current epidemic.
What is the International Reference Laboratory at APHA doing?
Through our international work at APHA Weybridge we are gathering intelligence on the virus itself and the epidemiology of the disease to understand more about the diversity of this virus in different European outbreaks, also comparing with viruses from further afield, to try to predict the likelihood of it establishing itself in our poultry populations, adapt to other species and the possible duration of the epidemic.
It will not be easy but Europe has been faced with similar problems in the past such as in 2006 with so called Bird Flu H5N1 and successfully controlled and eliminated infection in poultry.
In addition as the UK national centre for Avian Influenza our scientists are also carrying out laboratory investigations of suspect cases in poultry and wild birds, and also surveillance screening in and around affected regions, as well as epidemiological work to understand how the virus is spreading and support the national control programme.
Thankfully the virus is still essentially an avian strain and presents very low risk to Public Health but we are monitoring the virus as we continue to get new cases across Europe.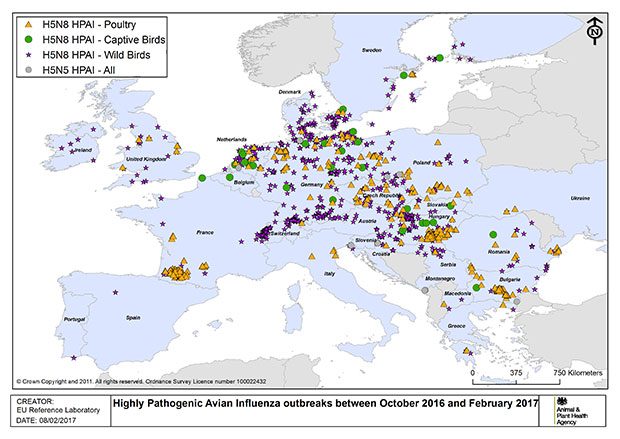 See a larger version of this map
What about the future?
Until our wintering waterfowl move to their breeding grounds in the far North, we are likely to still get occasional cases and even spread within the poultry sector in Europe.  The long-term dynamic is more difficult to predict but it may well be that this winter's virus will not be able to come back so aggressively in the future, if we learn lessons from the past.
As well as investigating suspect disease in our poultry sector, we will continue to closely monitor wild bird populations for the presence of this virus, to assess the risk they pose.  At the international level, we are collaborating with colleagues in Europe and around the world to closely analyse viruses involved in poultry outbreaks and isolated from wild birds, with the aim of trying to understand what makes these viruses different and how they might change in the future.
Further information
For more detail on our research and analysis of this situation, including updated maps showing the location of wild birds and poultry, visit GOV.UK and the FLU-LAB-NET website.
---
Ian on BBC's Countryfile Diaries
Ian appeared on BBC's Countryfile Diaries on 16 February.
He talked about the current avian influenza situation, explaining more about the virus and how it affects birds, and the importance of good biosecurity for poultry keepers. He also demonstrated the state-of the-art technology in use at Weybridge and the processes in place to identify disease and what happens when disease is confirmed.
Watch the show on BBC iPlayer (starts at 28:35).
Follow APHA on Twitter and don't forget to sign up to email alerts.