In early May, as Veterinary Lead for APHA's Avian Expert Group, I hosted the Avian Science Day at Weybridge, the eighth year that this successful event has been held.
The series of presentations showcased APHA's important avian surveillance and research activities to more than 70 delegates, including several poultry veterinary practitioners and poultry industry representatives.
It was a good opportunity for delegates to be updated on ongoing APHA work and to meet with colleagues with a poultry interest from both within and outside APHA.
APHA's avian science showcased
Ian Brown, Head of the International Reference Laboratory at APHA Weybridge, opened the event, giving a global overview of avian influenza and Newcastle disease.
He explained how the outbreaks of Highly Pathogenic Avian Influenza in Europe in 2016-17 were the worst avian influenza epizootic ever seen in Europe, but only a small number of cases were seen last winter (2018-19). However, he explained that it is the nature of avian influenza viruses to change and evolve and he emphasised that continued surveillance for the virus is required.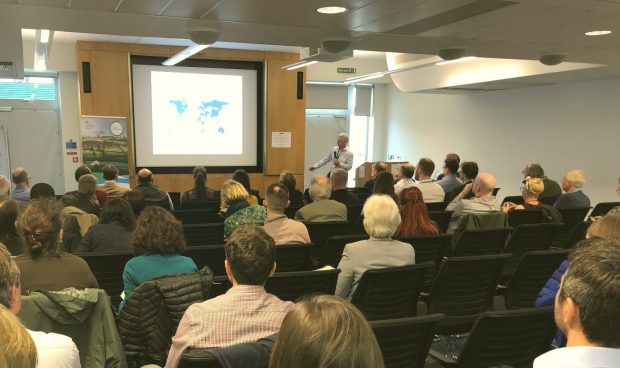 The outbreaks in Europe are primarily the result of spread by migrating wild waterfowl which may be carriers of the virus, or via maintenance in specialist duck production systems. The strains have changed with time but the situation in northern Russia and Siberia gives early warning of the emergence of new strains which can potentially reach Europe via the flyways of migratory birds.
The avian Testing to Exclude scheme
Rowena Hansen and Scott Reid, from APHA's Avian Virology Unit, gave an informative presentation about the Testing to Exclude scheme, which started in 2014. If avian influenza or Newcastle disease is suspected, it must be reported (notified) to APHA. However, on some occasions, the private vet may want to rule these diseases out in chickens and turkeys. So far, over 30 flocks have been tested in this way at Weybridge and it was great to hear that the scheme provides valuable early warning for avian influenza and Newcastle disease that compliments other methods of surveillance for these notifiable diseases.
Avian pathologist Alex Schock then talked about a new scheme, which was introduced in 2018 and offers private vets the opportunity for APHA to do differential diagnostic testing on cases where avian influenza or Newcastle disease was originally suspected but was subsequently ruled out. This differential testing is available for all poultry and gamebirds, not just chickens and turkeys. There has been interest from private vets in taking advantage of the opportunity this scheme offers and a charge is made for the testing using the APHA's standard disease surveillance price list. Private vets who would like to discuss the scheme are invited to get in touch.
Salmonella in poultry
The afternoon session started with a review of Salmonella in poultry by APHA's Salmonella disease consultant, Rob Davies. Rob explained how Salmonella has been controlled very effectively in poultry for the last few years under the National Control Programmes and it was good to hear that the number of cases seen is very low.
Backyard poultry population in GB
Epidemiologist, Adam Brouwer, spoke to us about a recent project he's been involved in to extrapolate the numbers of smallholder poultry flocks in Great Britain from information collected as a result of avian influenza outbreaks in recent years (predominantly the outbreaks in 2016-17). Adam explained how difficult it is to estimate the numbers of these small flocks in the country but this was an attempt to calculate the number on a scientific basis. Demographic and geographical data was also used in arriving at the number of flocks.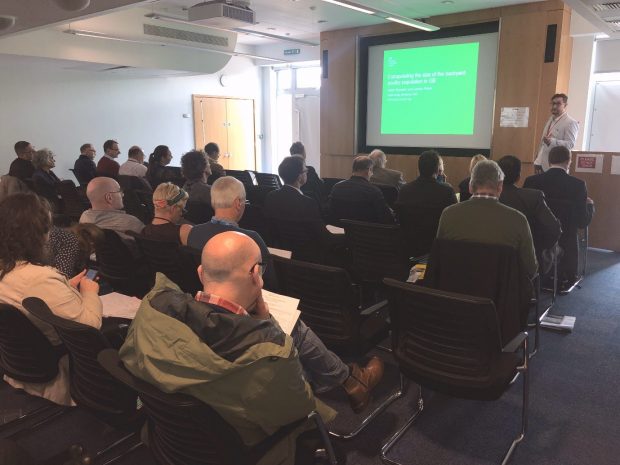 Using geographic information systems
Because of the role of wild waterbirds as potential carriers of avian influenza virus, the next presentation, by Geographic Information Specialist David Fouracre, summarised work carried out to model the abundance of wild waterbirds on poultry farms in relation to proximity to water bodies. It was interesting to hear that this work shows that we can use waterbodies, along with other landscape features such as geology and elevation, to improve our understanding of wild waterbird abundance on and around poultry holdings. This data driven approach shows a significant improvement on previous estimates, and provides a consistent method for estimating wild bird presence around poultry farms.
Development of diagnostic tests for Spotty Liver Disease in chickens
The science day finished with a presentation by Bacteriologist, Miranda Kirchner who described a new test that has been developed at APHA Weybridge to diagnose Spotty Liver Disease. This disease can sometimes cause health issues in chicken flocks and recent research has led to a better understanding of its cause and improved ways of diagnosing it by means of laboratory tests.
I thoroughly enjoyed the event and found the presentations highly informative, showcasing the new and innovative work that teams in APHA are involved in and wish to thank all involved in the day.
If you're interested in these topics and would like to attend future avian science day events please email APHA events.
Find out more about avian surveillance
 You can find out more about current disease trends in poultry by reading the most recent avian disease surveillance and emerging threats quarterly report.  Reports are also available for cattle, small ruminants, pigs, miscellaneous and exotic species and wildlife on GOV.UK.
There is also a dedicated web page for avian scanning surveillance. This includes links to an interactive dashboard for disease issues in small and backyard poultry flocks.
Enjoyed reading? Then why not subscribe to the APHA Science Blog