The reality of publications
Publication in scientific journals is an essential part of our role as scientists. There is little point in furthering a specific field if you don't let other researchers know what you have discovered. Scientific publications are often formal and complex, and finding out the details of how the experiments were completed can be difficult, particularly if they are in a different language or complex facilities.
Anyone who has read a scientific paper with the express aim of reproducing the methods in their own lab will know only too well how difficult it can be. Some small aspects can be omitted, for example a chemical reaction may require incubation at 42oC, but is that in a water bath, a dry hot block or a hot room with set humidity? Is the temperature and/or humidity specific or approximate? Does it matter?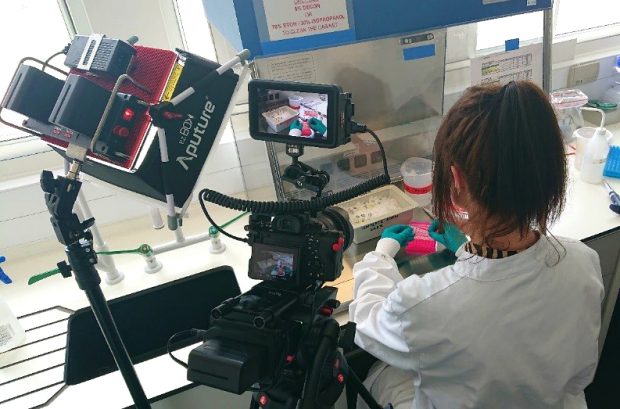 In the field of molecular diagnostics the precautions required to keep the samples from being contaminated are vital (like forensics), yet never fully described in the material and methods section.
Gap in the market
JoVE has identified this gap and is dedicated to publishing methodologies as a standard manuscript, but also accompanied by a video, focusing on the critical steps. With over 10,000 video articles currently available this novel practical solution to communicating high quality science is set to continue.
APHA has a go
JoVE presented us (APHA) with an opportunity to publish a video on our pan-lyssavirus real-time RT-PCR (reverse transcription polymerase chain reaction), to encourage its standardised use in rabies labs around the globe. This followed the World Organisation for Animal Health (OIE) Biological Standards Committee acceptance of our test validation data in 2018 and their recommendation that molecular tests such as this test should be used globally to detect lyssaviruses, the group of viruses that cause rabies.
We were pleased to feature our real-time RT-PCR which can be used to identify all types of lyssaviruses. The DNA primers, essential for this molecular test, were designed at APHA by Dr Phil Wakeley and fifteen years on these primers still detect all known lyssaviruses, including the most divergent, and recently discovered ones.
The process
The process of publishing with JoVE is quite unique. In the beginning it seemed no different to other peer reviewed journals.  I put together the manuscript with figures, tables and the usual sections. The only difference was the materials and methods section. The materials were listed in a table with purchasing information, and the method included a detailed list with 'notes' to highlight all critical steps.
The editors asked for a number of changes to the manuscript, including removal of 'ambiguous words' such as 'could' or 'should' to be replaced with more exacting terms; 'do this', 'ensure that'. After spending an empowering afternoon making the protocol adequately bossy it was resubmitted and accepted.
From that moment on, the process became new to me. The editors generated a 'film' script from the protocol and sent it to us for review, and asked for 'statements' that would be given by members of the team. When I asked which members of our team would like to be part of the filming there was a clear divide between those who would embrace the limelight, and those who clearly preferred not to!
The script contained specific details as to what the videographer would film and a list of 'screen captures' required to show the computer analysis.
Not quite Hollywood
On the day of filming everything was set to go and the cameraman produced a clapper board - not quite Hollywood, but still, it felt very professional! The filming was quicker than I imagined. Daisy Jennings (Research Scientist at APHA) known during the process as 'the talent' was tasked with recreating the assay and after overcoming a few technical issues along the way, the filming itself went smoothly.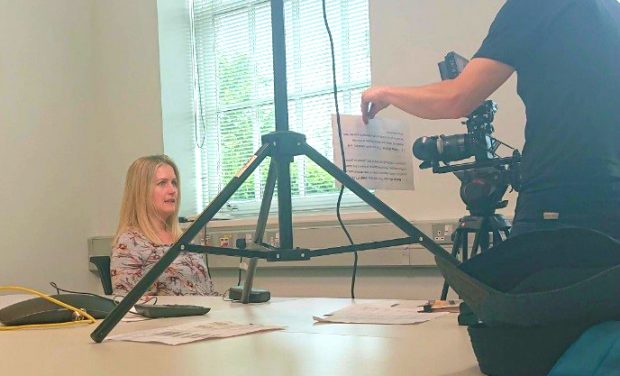 Those of us with 'speaking parts' had a few retakes to perfect them, and that was our time in the spotlight over. A final review of the video to refine the specifics was provided and then we just had to wait for the final production to go live!
A fantastic showcase of expertise and knowledge
In the field of science, the opportunity to be on camera does not come along often, and I certainly won't be pursuing a career on film any time soon! But it was a fantastic experience to showcase our expertise and knowledge. For any scientist with a methodology that they believe would benefit from being made into a video, I fully recommend publishing with JoVE.
Why not view the full video by clicking this link.
Enjoyed reading? Then why not subscribe to the APHA Science Blog