September 21 to 27 marks the first ever National Plant Health Week in the United Kingdom. This is part of the International Year of Plant Health 2020 (IYPH) which aims to raise awareness of the far-reaching benefits of protecting plant health.
National Plant Health Week is a partnership between government and industry with a lot of interesting things going on, focused around themed days that introduce the benefits of plants and trees, to encourage everyone to enjoy the plants and trees around them, and share knowledge about biosecurity and citizen science.
In this blog, we hear from APHA's Lucy Carson-Taylor and Steph Godliman as they share with us what to expect this week.
"I am Lucy Carson-Taylor. I lead plant health public and stakeholder engagement for Animal and Plant Health Agency (APHA). My job involves everything from working on Chelsea Flower Show exhibits and designing large scale projects to policy advice, social science and chairing technical communications groups. I have been working with Steph on the International Year of Plant Health campaign for the past year to develop our outreach and to make sure we have representation and opportunity for all of our stakeholder groups.

My love of plants and trees comes from my childhood, my mother grew up on a farm in rural Ireland and passed on her knowledge and understanding of the natural world to me. We were avid foragers, vegetable growers and protectors of plants and trees. It was incredible how productive our small garden was but there was also always room for the wild with banks of nettles for breeding butterflies and clumps of wildflowers for hungry pollinators. I have a large tangle of a garden now, it buzzes and sings with life, loud in all the best ways."
"I am Steph Godliman, a Tree Health Policy lead in Defra. I develop plant and tree health policy and work with a number of organisations in the Plant Health sector including the Royal Horticultural Society, and Kew Gardens, as well ministers, to promote our work, and messages around the importance of plant health, and practicing good biosecurity. This year I am leading the campaign for the International Year of Plant Health, a UN backed initiative to raise the awareness of the importance of plants, and actions people can take to keep them healthy.

I have loved plants and trees ever since I was small. My mum and dad were keen gardeners, growing vegetables such as green beans, carrots and potatoes in our garden. I had my very own small patch of garden where I grew pansies and strawberries. Over the last few years plants and trees have become increasingly important as a way to feed my wellbeing. This year I have started to collect a variety of eclectic houseplants, and have attempted to grow tomatoes, and broccoli with mixed success!"
What to expect this week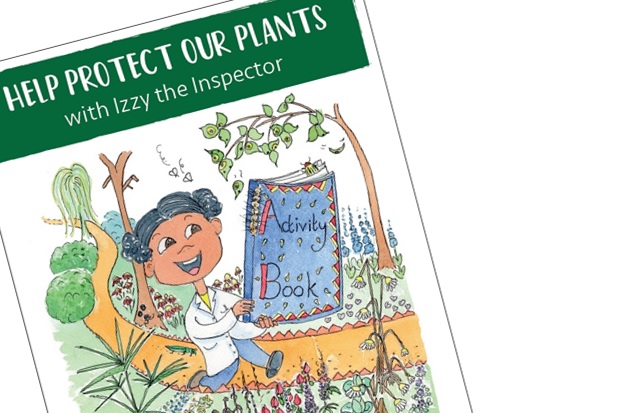 We will start the week with Defra's Chief Plant Health Officer, Professor Nicola Spence, and Gardener's World presenter Adam Frost launching 'Help protect our plants with Izzy the Inspector', an activity booklet for children. The booklet, created by Defra and APHA colleagues, is free and available to print from our resources page on the International Year of Plant Health website. It is aimed at children aged 6-10 but there are activities for everyone to enjoy.
On Wednesday, the Horticultural Trades Association (HTA) will be highlighting their 'Keep Britain Growing' and 'Million Planting Moments' campaigns and giving hints and tips on how to source your plants carefully. The benefits of gardening, whether that is a large garden or tending houseplants, have been well reported over the past few months and the HTA are keen to encourage people to continue to enjoy this boost to wellbeing. Our colleagues in the GB Non Native Species Secretariat will also launch their 'Be Plant Wise' campaign, highlighting simple ways to avoid introducing invasive species.
We will look at a day in the life of an APHA Plant Health and Seeds Inspector on Thursday. Be sure to subscribe to our blog so you don't miss this! Also, why not read about how the 'Don't Risk It' campaign has been running internationally.
On Saturday the focus will be on citizen science, with contributions from The Tree Council and Observatree.
Find out more and join in
You can find out about all these events by visiting www.yearofplanthealth.co.uk/plant-health-week throughout the week, following @plantchief @aphagovuk @defragovuk and @ForestryComm on social media and using the hashtags #IYPH2020 and #planthealthweek.