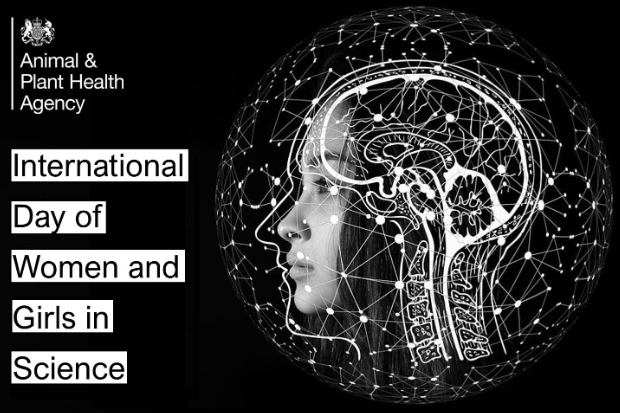 Women have played an important role at our agency, and its predecessors, for over a century. The first publication from a female scientist was by Dr Ruth Allcroft in 1935, on a rather niche topic, 'Rapid titrimetric estimation of arsenic in biological material'. We have come a long way since then and the number of female staff working in and publishing cutting-edge science has rocketed at APHA. We are sure that Ruth and our other early female pioneer scientists would be immensely proud.
On this International Day of Women and Girls in Science, we hear from Dr Jenny Stewart, APHA's Director of Science and Transformation, as she shares some personal thoughts to accompany a video from a small selection of our female science staff.
"At APHA, we are rightly proud of our gender balance across roles and grades. Our people work together to apply knowledge, policies and procedures that are underpinned by outstanding science and evidence.
International Day of Women and Girls in Science gives us an opportunity to celebrate our rich and deep heritage, expertise and roles in science here at APHA, but we have much more to celebrate.

We have women working in all parts of the agency: in our laboratories and on computers, but also in the field, on farms, at the border and answering customer calls and emails and in many, many more scientific disciplines and administrative support areas - each of these vital to our success in protecting animal and plant health at locations across Great Britain.

I have enjoyed learning so much at APHA since I joined just over a year ago. I am a multidisciplinary scientist myself (a journey starting in earth sciences via space flight engineering and on to science leadership of APHA now) and have held many interesting and challenging roles in government and higher education. I am thrilled to have the opportunity to continue to grow as a leader, a scientist and as a human being at APHA!

I am really proud to support International Day of Women and Girls in Science this year, as I am every year.

I would also like to take this opportunity to share that we have an active Science, Technology, Engineering and Mathematics (STEM) Ambassador group at APHA, who are available to come out to schools and colleges to talk about the science, technology, engineering and mathematical work we do and the career and learning opportunities. Do contact us if you would like to know more. Details can be found at the bottom of this blog."

Dr Jenny Stewart

Director of Science and Transformation, APHA
"I'm so proud to have become the Chief Executive Officer of the Animal and Plant Health Agency (APHA) in April 2022. The work the Agency undertakes is supported and led by women working at all levels; in fact over 50% of senior managers within APHA are women. I look forward to the day when such a statistic is the norm across all organisations!

International Day of Women and Girls in Science gives us all an opportunity to celebrate the fantastic contribution that women make right across APHA in roles as diverse as laboratory and test management, epidemiology, scientific research and scientific project management. It also enables our amazing female scientists to showcase their work to inspire future generations.

I am committed to supporting all of our people in their careers and it's been clear that continuing to deliver our world class science has relied on the commitment, excellence and ingenuity of our people at Weybridge and across APHA, without which we would not be the world leaders we are."

David Holdsworth

Chief Executive Officer, APHA
Our STEM Ambassador Group
We have an enthusiastic group of scientists from our animal and plant health teams, covering a wide range of disciplines from bacteriology, data science, epidemiology, virology, molecular biology, pathology etc., who are keen to inspire students to study or work in science.
Please email APHAengage@apha.gov.uk if you are a teacher or community representative interested in:
receiving an invitation for college or university students to attend an open day at our science headquarters near Weybridge in Surrey or our Sand Hutton campus in York.
inviting a scientist to visit your school, college or community science/career event to talk about their work.
Please use this link for further information on recruitment and learning opportunities.
You can also email: sciencerecruitment@apha.gov.uk for more information.
Subscribe to our science blog
Throughout the year, we publish blogs which highlight the breadth of scientific work we are involved in as well as sharing our latest news and events we have attended.
Subscribing to our blog takes seconds and you will receive instant email alerts as soon as new blogs are published so why not subscribe today!
You can also follow #APHAscience on Twitter, Facebook or LinkedIn to keep up to date with our scientific news.