There are many pests and diseases that could seriously damage crops and plants in the UK. However we have strict plant health controls in place to safeguard our plant health status. Edward Birchall explains more in his recent TV interview.
PHSI role
The Plant Health and Seeds Inspectorate (PHSI) part of the Animal and Plant Health Agency (APHA), is responsible for the enforcement of plant health controls in England and Wales.
These controls apply to the import and movement of certain plants, seeds, produce and organic matter - such as soil - and certain plant products, including fruit, potatoes, vegetables, cut flowers, foliage and grain for England and Wales.
One of the vital jobs I and my PHSI colleagues perform is to keep a lookout for quarantine organisms (plant pests and diseases which could be harmful to the UK).
Although our island status means that we have a natural barrier to some quarantine organisms, we need to monitor imports to make sure that only healthy material comes into the country and the risk of importing and spreading new pests and diseases is minimised.
BBC Countryfile
We also do a lot of work engaging with industry and the general public to inform and raise awareness of current and new quarantine plant pests and diseases. And sometimes we even get ourselves on TV!
In June BBC Countryfile researchers approached APHA about a piece they were planning on potential routes of entry of plant pests to the UK. They were particularly interested in imported pot plants and associated import requirements. I was happy to volunteer to be interviewed, which would give me the chance to explain a bit more about what we do and why to a wider than usual audience.
My colleague, Richard Hindley, identified a garden centre willing to accommodate the filming and he very kindly collected me and Alison Wilson, our plant health press officer, from the station, before we all headed off to the garden centre. There we met the BBC crew and one of the Countryfile presenters, Tom Heap.
The film crew and director were really helpful and Tom's friendliness soon made me feel at ease.
The interview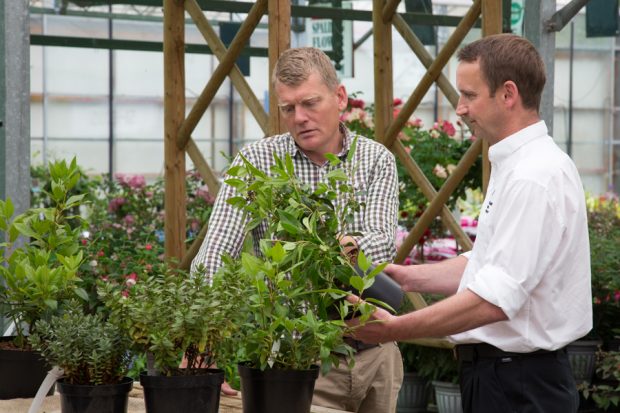 In the photo above I am explaining, in response to Tom's questions, how some plants and plant produce are prohibited from entering the UK from outside the EU while others must meet certain requirements and be accompanied by a phytosanitary (plant health) certificate.
Separately, plants or plant products that could host quarantine pests and diseases imported from within the EU may need to be accompanied by 'plant passports'. These passports indicate that the plant or plant material has come from an officially registered producer whose premises are subject to regular inspection by that country's inspection service to ensure freedom from quarantine pests and diseases.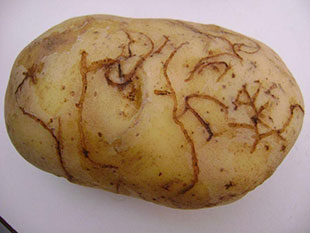 I also explained how the UK is able to quickly introduce more stringent plant health controls in response to new pest or disease threats. For example, a damaging quarantine flea beetle called Epitrix has been attacking potato crops in some regions of Portugal and Spain, reducing crop yields and making the potatoes unsaleable. You can see some of this damage in the photo on the right. As the UK annually imports ware (eating) potatoes from Spain we were worried that these tiny flea beetles could be transported in attached soil and could infest UK crops. As a result new national measures have been put in place that mean Spanish and Portuguese potatoes from infected regions must be washed before arriving in the UK.
An hour and half passed quickly, with hardly any need for re-takes although I was a little disappointed that there was no clapper board or director's chair…!
The programme was broadcast on 10 July and I was very happy with the end result.
Report suspicion of a quarantine plant pest or disease
To report suspicion of a quarantine plant pest or disease or for advice and guidance on plant health regulations please do call our Plant Health Helpline on 0300 1000 313 or email planthealth.info@apha.gsi.gov.uk.
Follow APHA on Twitter and don't forget to sign up to email alerts.