Kirsty Line talks about the role played by APHA's laboratory services in the development of the Animal Disease Testing Service, a new digital service for vets.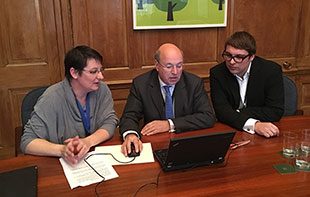 In the Surveillance and Laboratory Services Department in APHA we offer a diagnostic test service to private vets in England and Wales, alongside other testing for trade, commercial and statutory requirements.
As well as providing test results to the customer, we use the data provided for this service as part of our scanning surveillance for new and re-emerging animal disease threats, an important part of our delivery for Defra and the Welsh Government.
From paper to digital
We have traditionally offered this service using paper submission forms which are posted along with samples to a designated 'hub' laboratory. Because we don't undertake all of our tests at every location, this means that we move samples around our laboratory network to get them to the right lab for testing.
As part of our transformation programme we have been developing a digital service to help our customers get their samples direct to the right lab for testing, and to capture the important submission data directly. As the digital Service Manager for the Animal Disease Testing Service (ADTS) I have been leading the APHA service development phases from alpha, through beta and to live.
Development of ADTS
The service has been developed with input from our customers from the beginning, with feedback from user research being an integral part of the build. We have built the service to the Government Digital Service standards, which are applied to all GOV.UK applications, to ensure that there is a familiar look and feel to services, and that they meet the high standards expected by end users.
After a period in which a selection of our customers used the service for their submissions, the service launched on GOV.UK back in July 2016 and became available to all of our private vet customers. We are now moving to our final assessment against the standards, and the service will then move to a fully live service.
The digital service enables our customers to send samples direct to the testing laboratory, benefit from improved turnaround times and the ability to access their test results from mobile platforms where ever they are
Making improvements
It's early days, but we're already seeing improved efficiency internally as we save time handling testing submissions moving samples around the network. Digital customers can choose where to send samples, track their submission from receipt to completion, and access results as they are released from our labs. They can also benefit from notifications to let them know if their samples haven't arrived.
By providing digital access to our testing services, notifications to the customers, and mobile access to results we can improve the speed by which private vets can diagnose and effectively treat disease in livestock.
By changing the way we work, we are making our services more efficient for us and the customer and delivering our aims for a nation better protected against animal diseases and for a world-leading farming and food industry.
Access the Animal Disease Testing Service

Follow APHA on Twitter and don't forget to sign up to email alerts.