To mark World Rabies Day (WRD 2017) which takes place today (28 September 2017), Prof. Tony Fooks highlights some of the rabies work we're doing at APHA.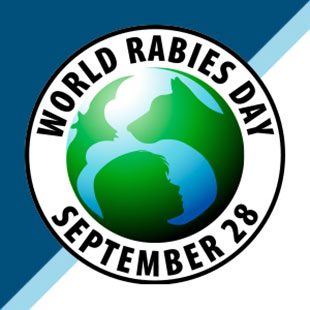 World Rabies Day , inspired by the Global Alliance for Rabies Control (GARC), takes place each year on the anniversary of the death of Louis Pasteur on 28 September.
World Rabies Day 2017 is focusing on the global elimination of rabies with a particular emphasis of raising awareness of dog-mediated rabies.
To help achieve this the OIE, the WHO and the FAO signed a tripartite agreement to co-operate in eliminating rabies globally by 2030 with support from GARC.
The theme for the 2017 World Rabies Day is 'Rabies: Zero by 30'. More information about GARC and World Rabies Day is available on the GARC website.
APHA Surrey Hills Challenge
Each year, the team at APHA plan an event to raise money and awareness in support of global rabies elimination efforts. This year, to raise funds to support 'Mission Rabies', the team from APHA ran a variety of distances – 5km, 10m, 20km or 60km - in a local running event known as the Surrey Hills Challenge. All the distances were challenging as the terrain across each distance included the steep gradients of the Surrey Hills. The team did really well in raising over £1,000 to support Mission Rabies.
Dr Ash Banyard, the organiser of the APHA team said:
It was a fantastic team effort. Getting people out to run is not an easy thing, especially where both hills and mud are concerned. Still everyone that ran on the day can be very proud of their achievements and I hope that this event has stimulated an interest in those that participated to take on something even more challenging next year!
Anyone wishing to sponsor the efforts of the team can do so via the JustGiving website or visit the Mission Rabies Facebook page.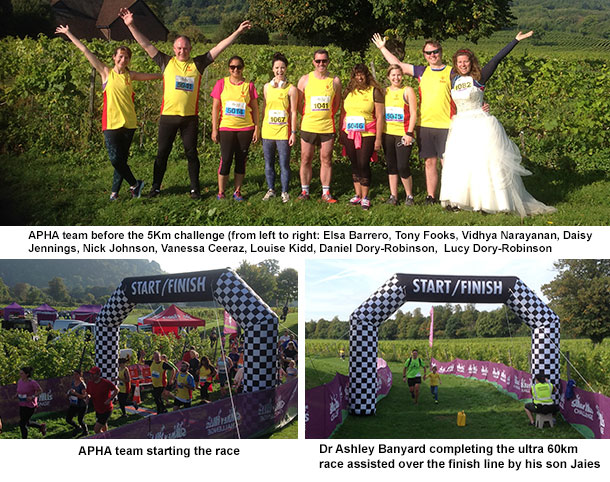 Mission Rabies
Mission Rabies was founded in 2013 with one simple vision: 'to eliminate rabies', and as such promotes the vaccination of dogs in regions of the world where rabies is enzootic. Since 2013, international volunteers have worked with local people in India, Malawi, Uganda, Tanzania and Sri Lanka to catch and vaccinate dogs.
By demonstrating that the vaccination of dogs leads to a reduction in human cases, the work has a further effect in encouraging the support of governmental bodies in endemic regions by highlighting a way forward towards elimination.
Alongside this, by increasing awareness of rabies within a country there is a reduction in the inhumane destruction of healthy dogs due to the fear of this deadly disease.
More information about the work of Mission Rabies is available on the Mission Rabies website.
Rabies and APHA
The rabies laboratory at APHA is the national reference laboratory and the OIE Reference Laboratory and WHO Collaborating Centre for rabies.
The UK remains rabies free, although rabies is still responsible for the deaths of thousands of people particularly in parts of Africa and Asia.
APHA's international remit is to undertake surveillance and formulate strategies to control rabies in rabies-endemic countries. The aim is to reduce the possibility of rabies reoccurring in Europe and in particular preventing a re-introduction of rabies to the UK.
Our strategic approach is aligned with the overall vision for canine-rabies elimination that focuses on a multi-disciplinary initiative, called the 'One Health' approach further information on the One Health website.
By working together internationally, the elimination of human rabies transmitted by dogs in rabies-endemic countries should be a realistic goal by 2030.
I talk about the latest on Mission Rabies and the work my team is doing in the safeguarding with science video: Rabies research and testing. Watch the video below.
International work
Part of the international outreach of the APHA team includes helping to establish testing capabilities in endemic regions. A lack of diagnostic capability across both Africa and Asia means that the true burden of rabies remains largely unquantified. Through funded initiatives APHA are involved in capacity building projects across endemic regions.
Previous projects have improved capability in Georgia and Azerbaijan and a current project is focusing on rabies in Tajikistan where we are working closely with the National Center for Veterinary Diseases in Dushanbe. Alongside improving basic diagnostic capabilities, in our role as OIE reference laboratory and WHO collaborating center we also perform twinning activities with strategically positioned laboratories to bring testing up to an internationally recognised standard.
APHA have previously succeeded in supporting the establishment of a laboratory in China as an OIE recognised laboratory and the team are now undertaking a similar mission with a strategically important laboratory in India.
With an estimated population of approximately 30 million unvaccinated free-roaming dogs in India and an urban density of 178 per km2, it is no surprise that India accounts for 35% of all reported human rabies deaths worldwide.
The APHA team led by myself in collaboration with the OIE Reference Laboratory at Centres for Disease Control and Prevention (CDC) in the USA. Have been working with the Veterinary College, Karnataka Veterinary, Animal and Fisheries Sciences University, Bangalore in collaboration with the Commonwealth Veterinary Association as part of an OIE Laboratory Twinning Project with the remit to build capability in diagnosing animal rabies.
Two OIE Twinning Workshops have been held in July 2016 and February 2017 where a team of scientists from APHA and CDC visited the laboratory, to undertake a stringent gap analysis in order to identify areas for improvement.
The audit included an assessment on quality systems and biosecurity, and in line with the requirements for ISO 17025, dedicated assistance is being provided to the team at the veterinary college to help them work towards achieving accreditation. This project has the potential to make a significant impact on rabies control in the subcontinent.
In the future, the laboratory will be involved in acting as a focal point for rabies and training veterinarians in diagnosing and controlling animal rabies with the goal of eliminating rabies by 2030 from the Indian subcontinent.
Visit the GARC website to find out more about WRD 2017 'Rabies: Zero by 30'.