In the next in our series of blogs about the work of the Surveillance and Laboratory Services Department (SLSD), we showcase some of the varied testing that we do in the department, and shine a light on some of the teams who undertake the work.
SLSD undertakes testing for a number of different reasons:
Statutory testing
SLSD undertakes a variety of statutory testing across our laboratory network.  This includes
TB diagnostic testing, including culture at three sites across the network
Salmonella testing in poultry as part of the National Control Programme (NCP)
Brucella testing in abortion submissions and bulk milk to ensure that GB remains free from the disease
Bacterial testing on biogas and bio-compost products to ensure safety
Import testing across a number of tests and species, ensuring animals entering the country are free from notifiable disease
Providing industry testing for Contagious Equine Metritis, Campylobacter fetus venerealis, and Trichomonas, assuring breeding stock and artificial insemination semen is free from reproductive disease
High throughput disease surveillance testing as part of emergency response to notifiable disease outbreaks.
Emergency response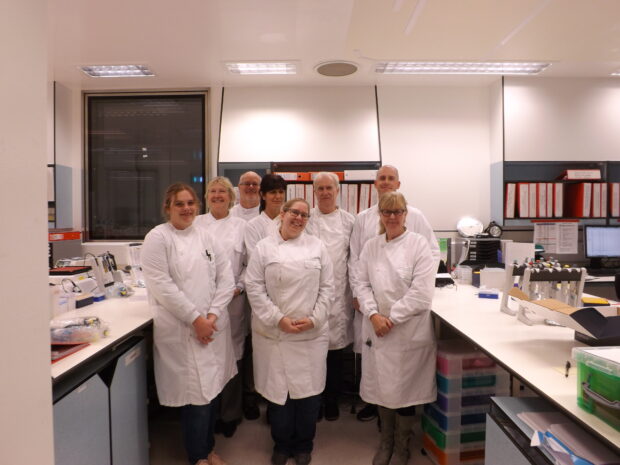 As part of the Emergency Response High Containment Contingency Labs team, we provide large volume testing for diseases such as foot and mouth disease, classical swine fever, African swine fever, African horse sickness and Bluetongue. Up to 80,000 samples a week can be tested to demonstrate disease freedom and facilitate international trade. The team also includes sample reception staff and office staff as well as all the Serology lab staff and managers (over 60 people).
Contagious equine metritis testing
Most countries which import British thoroughbred livestock require a certificate declaring that the animal has been tested free of Taylorella equigenitalis, the causative organism of contagious equine metritis (CEM). At APHA Penrith, we are the approved Defra laboratory for culturing export samples for T. equigenitalis. The laboratory is also designated to test post-import samples, to test samples from official tracings of horses in contact with infected animals and to act as a reference laboratory in Great Britain for identification, and confirming the identity of the organism. It is also an OIE (World Health Organisation) Reference Laboratory for CEM. On average 6000 samples per year are processed through our laboratory.
Campylobacter and Trichomonas section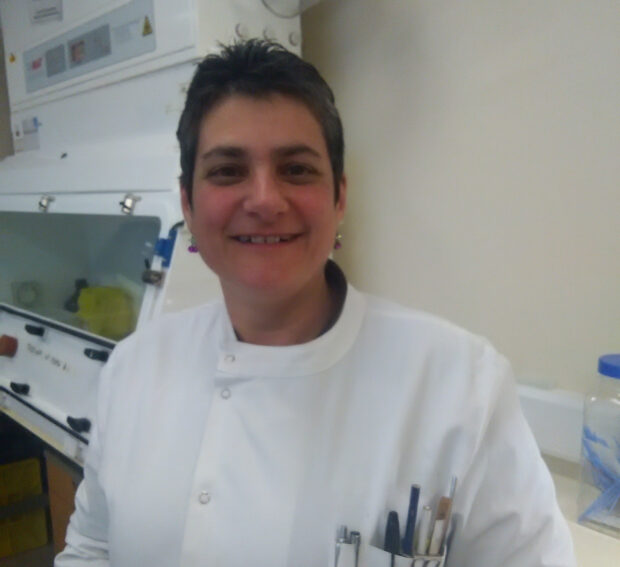 We test sheath wash samples coming in from artificial insemination (AI) centres, looking for venereally transmitted pathogens.  We look for Campylobacter fetus venerealis and Tritrichomonas fetus.  These are not currently endemic to the UK but can cause infertility and abortion if passed on via semen during artificial insemination.  We use a combination of fluorescent antibody testing (FAT) and culture to detect Campylobacters, and for Trichomonas we use direct microscopy and culture. (Elena Velo-Rego, Starcross)
TB diagnostics section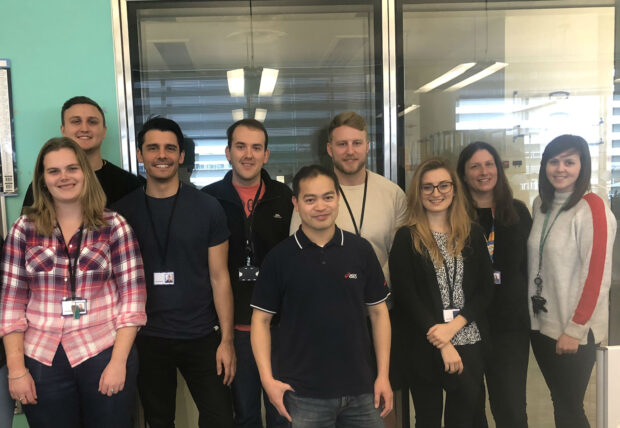 In the Weybridge TB Diagnostics section, we undertake statutory testing for Mycobacterium bovis. Working in a containment level 3 facility, the section processes and cultures around 5,000 samples per year using different methods such as solid and liquid selective growth media, and the Kinyoun acid and alcohol fast bacteria stain.  These samples range from farmed livestock, to zoo animals, to domestic pets.
Salmonella CSPO (Control of Salmonella in Poultry Order), animal by-products (ABP), and bio-composting testing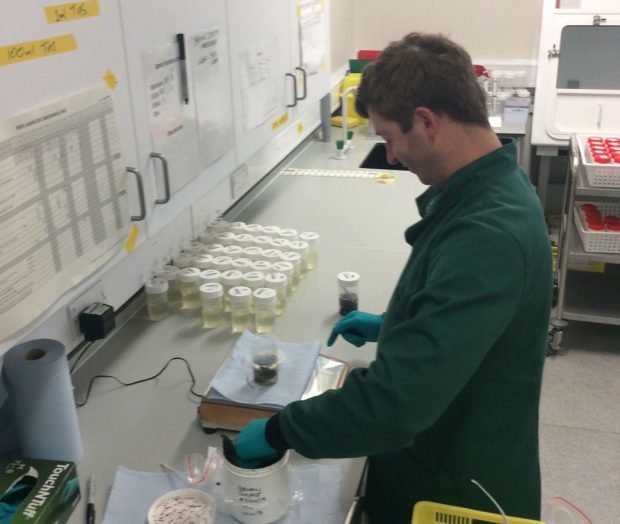 We are a small team of three who carry out statutory testing for the Salmonella in poultry National Control Programmes (NCPs). We received approximately 4400 submissions in 2018 from chicken and turkey flocks.
We also carry out statutory testing on processed animal protein and compost/biogas samples for Salmonella and Entreobacteriaceae/E. coli enumeration. We received around 1500 ABP submissions in 2018, with each ABP sample needing to be tested five times; this is very labour intensive! (Andrew Huntley, APHA Newcastle)
Trade export testing
Serology (tests on serum to detect antibodies or antigens) testing to meet the requirements of the importing country.
Equine, cattle, sheep, goats and pigs are predominantly tested at Weybridge and avian species are predominantly tested at Lasswade.
Tissue culture section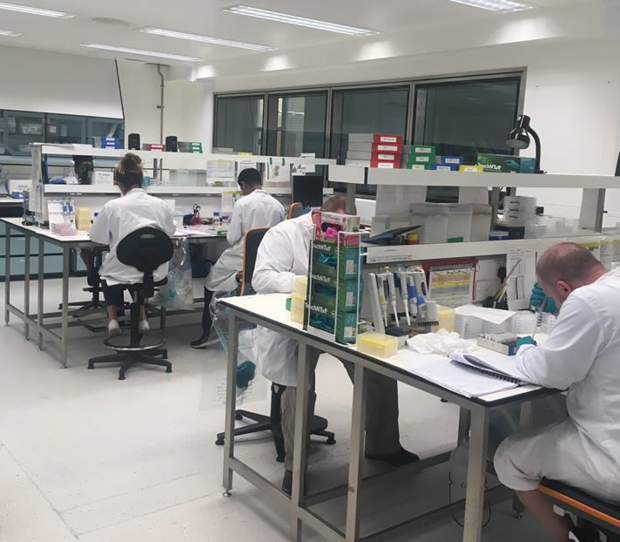 The Tissue Culture section at SLSD Weybridge perform export testing for high profile equine international trade, including Equine Viral Arteritis and Equine Infectious Anaemia (both notifiable diseases).
We also perform a lot of different types of test for diagnostic purposes including serum neutralisation tests (e.g. for infectious bovine rhinotracheitis), virus isolation tests (e.g. for bovine viral diarrhoea), haemagglutination inhibition tests (e.g. for avian and swine influenza), immuno-peroxidase monolayer assays (e.g. PRRS) and agar gel immunodiffusion tests (e.g. for enzootic bovine leukosis).
Many of the pathogens we work with are live viruses so we have to work at containment level 2 or 3 (specific controls to contain pathogens) , so all the staff in the team have to go through intensive training to work in containment including emergency contingency drills.
Avian testing
At Lasswade, we provide a targeted diagnostic and monitoring test service, specifically avian serology testing for international Trade and statutory purposes, meeting the needs and supporting commercial and private industry. In this, we employ various test platforms for a number of avian diseases as part of a fully accredited service. (John Fraser, APHA Lasswade)
Diagnostic testing
SLSD offers a range of diagnostic tests to support private veterinary surgeons (PVS) in veterinary case management across farms in England and Wales.
We have a series of tests to detect and identify a number of endemic diseases and pathogens, including blood based (serology), molecular based (PCR), and pathogen based (parasitology, and bacteriology). Bacteriology can be determinative – looking for an unknown pathogen – or can be directed to look for a specific pathogen; and parasitology can be counting worm or fluke eggs in faeces, through to identifying specific parasites.
The diagnostic service also involves our veterinary investigation officers (VIOs) to provide input to assist the PVS to diagnose and treat disease on the farm.  The results and outputs from diagnostic veterinary casework are used to enable our VIOs to assign diagnostic codes, depending on strict criteria, that then enable us to look at the data for patterns and trends, and to spot new or re-emerging disease threats (see more information and APHA annual reports on the VIDA page), which we can then flag to our species expert leads and disseminate back to the PVS community. More on that aspect of our work in a later blog!
All of the testing is delivered to ISO 17025 standards (a quality standard for testing laboratories) and quality management systems, with the majority of the tests accredited to the standard. This ensures that we are confident in the results that we get.
Porcine ELISA laboratory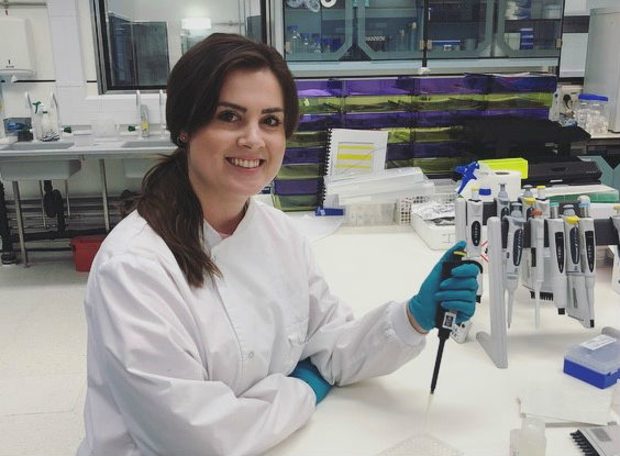 At SLSD Weybridge, we undertake diagnostic testing for cattle, horses, avian and pig diseases. I am responsible for samples in the Porcine ELISA Laboratory where I perform diagnostic testing for a variety of diseases. Some well-known pig diseases that I test for include: classical swine fever, porcine reproductive and respiratory syndrome (PRRS) and Aujeszky's disease. ELISAs (enzyme-linked immunosorbent assay) are used to detect antibodies or antigens in animal samples, mainly serum or blood. Despite being called the 'Porcine ELISA Lab' we receive samples from a wide variety of species into our lab – even some from exotic species from zoos worldwide.  During a notifiable disease outbreak, we would work in Containment Level 4 and perform high volume testing which is required for surveillance. (Katie Purchase, APHA Weybridge)
Molecular biology
The Molecular Biology department at Penrith is a small team of four working on diagnostic, monitoring and statutory testing. We have 12 different PCR tests, including BVD, PRRS, avian metapneumovirus (aMPV), Chlamydia and Taylorella. At last count we were processing about 11,000 tests per year, mainly BVD, PRRS and aMPV. Our Chlamydia test is low throughput as it is mainly used by customers as a pre-movement test when taking their parrot with them to Spain on holiday! (Nicholas Torrens, APHA Penrith)
Parasitology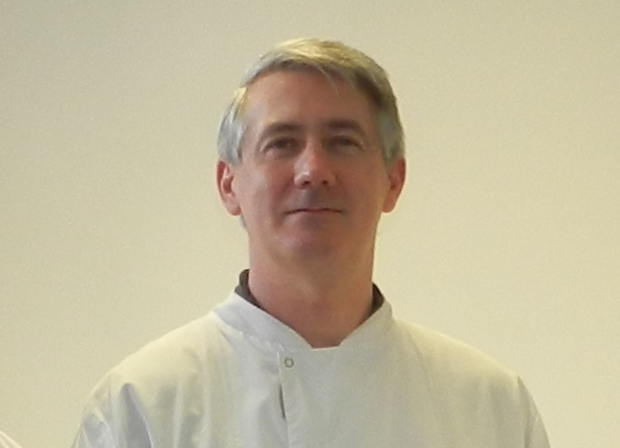 At Carmarthen, as the specialist centre for parasitology, we perform and interpret over 20 diagnostic tests to enumerate and determine species of parasites from a huge range of livestock and wildlife submissions. (Tony Miller, APHA Carmarthen)
AMR team
Laura Murray and Jeremy Chanter are responsible for antimicrobial testing at Starcross. This high profile responsibility requires them to act as a reference laboratory, identifying potential resistance phenotypes from surveillance testing. They use two methods of demonstrating antimicrobial resistance; disc diffusion and broth Minimum Inhibitory Concentration (MIC).