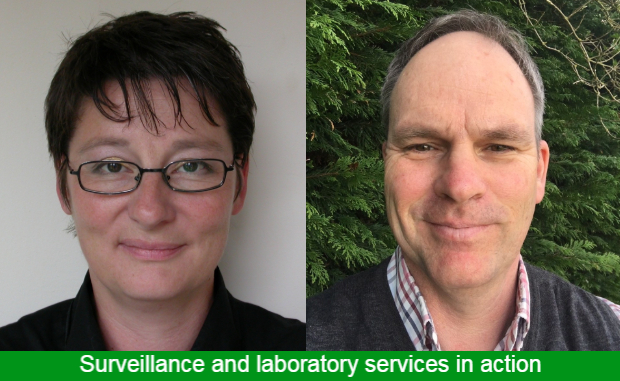 Kirsty Line, head of APHA's Surveillance and Laboratory Services Department (SLSD), introduces a series of blogs about the work of the department. In the first of this series, Gareth Hateley, Veterinary Lead for APHA's Cattle Expert Group, highlights the work his group are doing to investigate a re-emerging disease.
Who are SLSD?
SLSD is a large multi-disciplinary department working from 9 sites across Great Britain. The department is a key part of APHA's ability to improve animal health and welfare, protect public health and facilitate trade. It is supported by teams of laboratory scientists, veterinarians, administration and technical support staff, epidemiologists and data analysts.
Biotechnology teams
The biotechnology teams are responsible for production of biological media and reagents to support our testing and research in APHA, alongside those produced for commercial customers. The team has specialists in cell and tissue culture, antibody production and manufacture of a whole host of other specialist reagents key to our diagnostics and research. The media and reagents they produce support our serology tests, bacterial cultures, and pathogen isolation, in addition to identification and typing of pathogens.
Laboratory testing teams
The laboratory testing teams cover statutory, diagnostic and international trade testing requirements, covering a wide range of test types and pathogens to ensure that APHA can support industry and support surveillance for new and re-emerging animal disease threats. From worm egg counts and pathogen isolation to antibody or antigen detection through PCR and whole genome sequencing, we have teams of scientists and specialists working to quality assured standards.
Veterinary Investigation Officers
The team of Veterinary Investigation Officers are based at Veterinary Investigation Centres across England and Wales and manage veterinary casework from postal submissions and carry out post mortem investigations and farm visits to support investigation of livestock disease.
Species Expert Veterinary Leads, epidemiologists and data analysts
The data gathered from this work are collated and coded according to diagnosis criteria which is then used by Species Expert Veterinary Leads, epidemiologists and data analysts, to monitor trends and look for new or re-emerging threats. These specialist surveillance experts ensure that risks are escalated and, working closely with industry sector leaders, provide policy advice on diseases impacting the UK farming sector. With their contacts across the world they are also keeping a close eye on what is happening elsewhere and how that may impact the UK.
Technical and administrative support staff
Technical and administrative support staff underpin the work above. They ensure that paperwork is processed, data is captured, results of tests are reported and that the whole department keeps running smoothly!
SLSD in action: Severe summer scour syndrome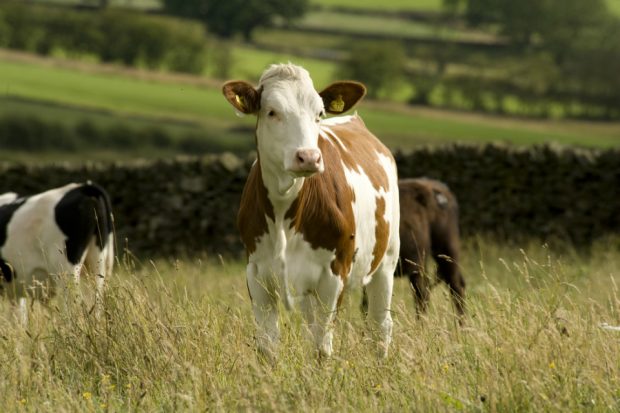 Gareth Hateley is the Veterinary Lead of the APHA's Cattle Expert Group which provides advice to Government, private vets and the livestock industry about cattle disease scanning surveillance.
"My group identified a potentially new condition in dairy cattle under a year of age shortly after they'd been turned out to pasture. The clinical signs were:  severe diarrhoea, a decrease in body condition and taking longer to grow. Some animals were more severely affected than others, having alimentary tract ulcers, with a smaller number dying. This syndrome looked likely to be associated with a rapid change in the organisms present in the animals' digestive system (the enteric microbiome) caused by the change in feed source. It has provisionally been called 'severe summer scour syndrome', reflecting the seasonal nature of the problem.
Because this looked like a new syndrome, though possibly associated with other previous cases seen by APHA and SRUC, who has responsibility for scanning surveillance in Scotland, we highlighted it in the cattle Quarterly Report.  This was read by colleagues who do a similar job to ours in the Republic of Ireland and has led to a collaboration (see below) so it shows that these reports are valued outside GB!
We developed a case definition and investigation protocol in collaboration with colleagues from SRUC, the Republic of Ireland and Northern Ireland. The aim was to identify potential risk factors through a simple questionnaire and a sampling protocol to collect samples for further investigation. To raise awareness with the veterinary profession we published a letter in the Veterinary Record at the end of the grazing season last year, as a result we have already identified a number of potential case farms we plan to investigate in this year's grazing season.
We're going to write again to the veterinary profession to remind them just prior to turnout to be aware of 'severe summer scour syndrome' and to tell us about potential cases. We plan to investigate a series of cases to get a better understanding of the risk factors and to collect a set of samples that we can use to identify if any new pathogens are involved."
Find out more about cattle surveillance