On 26 November 2018, APHA Weybridge hosted the first Inventory and Ambitions workshop for the One Health European Joint Program funded COHESIVE Project in a two day conference. In this blog, Charlotte Cook, Senior Risk Analyst, talks about the event and the importance of professional networks across Europe.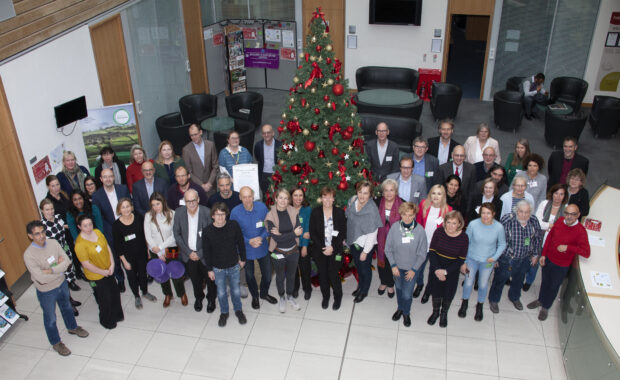 'One Health' is a concept used to describe the tight link between human, animal and environmental health. The study of health risks that can cross barriers to affect humans and animals is important in being able to intervene and stop or control spread.
The COHESIVE Project
The COHESIVE project (One-Health Structures in Europe) started in January 2018 and is led by Kitty Maassen from the National Institute for Public Health and the Environment (RIVM) in The Netherlands.
The aim of the project is to bring together scientists and professionals from animal health, plant health and food safety. By making it possible for partners to work more closely and share experiences, health risks that affect both humans and animals can be tackled more efficiently as a whole.
There are nine countries involved in delivering the COHESIVE project, but as the results are beneficial to all the countries across Europe, invites to the workshop were sent to as many countries as possible. In total 19 countries sent representatives from 41 institutes involved in controlling relevant diseases and pathogens. Having so many experts in one place meant the workshop outcomes covered a range of different points of view and experiences in the area of One Health.
Conference Presentations
The workshop began with an overview of foodborne pathogens in Europe presented by Valentina Rizzi from the European Food Safety Authority (EFSA), followed by a series of inspirational talks from scientists that are currently working in One Health and the organisational structures that have been set up in each country.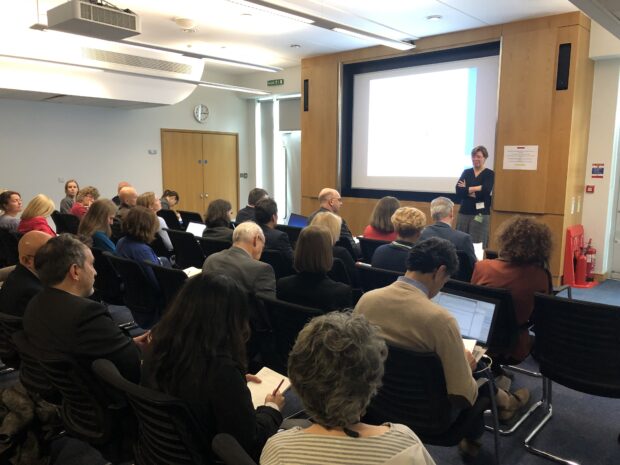 Representatives from Public Health England UK, Dilys Morgan and Jolyon Medlock, presented on the structure of the Human and Animal Infections and Risk Surveillance Group (HAIRS). They also covered some interesting topics that have been considered at recent meetings such as how climate change can affect insects and ticks that can spread diseases.
Italian delegate, Gaia Scavia, presented on the challenging situation of managing a Hepatitis A food contamination outbreak in a country where surveillance and reporting is undertaken at a regional and national level.
Elina Lahti presented on the Nordic Council of Ministers, where Denmark, Finland, Iceland, Norway and Sweden gather on a regular basis to discuss topics that are of concern across the region, such as outbreaks of Salmonella in pets and humans.
In the last presentation Jürg Danuser gave an overview of the dedicated One Health body in Switzerland, and how they were involved in assessing the risk of Hepatitis E outbreak.
Working Together
A separate section of the workshop was devoted to a work package focused on data platforms to help risk analysis and disease outbreak management. This group started by looking at the systems that are already developed or in place across Europe for depositing data and the different types of data collected. The group then looked at how the different data stores could be leveraged to add value by combining it with additional data collected within individual countries.
The rest of the workshop was mainly devoted to interactive sessions that were designed to inform the work packages of the COHESIVE project. These sessions included: identifying barriers that obstruct organisations working together, ethical dilemmas encountered when data sharing (presented by colleagues from the COMPARE project), the new European Centre for Disease Prevention and Control (ECDC) event and threat management system (presented by Karin Johansson), the EFSA national reference laboratory network, development of guidelines for effective One Health collaborations and the design of a structured decision making tool to support risk assessment.
Everyone that attended the workshop was part of the breakout sessions which give rise to a lot of lively debate that highlighted some of the common problems that many different countries are experiencing. One of those problems was how to set up and maintain a network of professional contacts within a country as well as across Europe so that during an outbreak information can be disseminated quickly. Events such as the COHESIVE workshop help in developing these networks as there is an opportunity to meet people in similar roles and find out how they work.