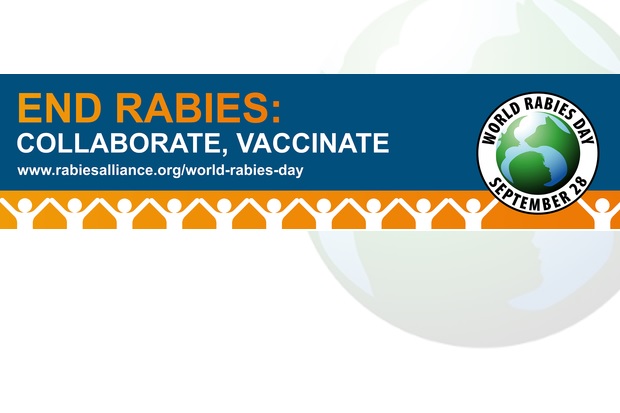 September 28 marks the 14th World Rabies Day. This year, we hear from Dr Lorraine McElhinney and Professor Tony Fooks as they talk about this year's theme 'End Rabies: Collaborate, Vaccinate'. Find out how APHA is contributing to the UK Government's commitment to eliminate dog associated human rabies by 2030.
Firstly, let us hear from Lorraine, Work Group Leader for the Rabies and Viral Zoonoses Team.
As in all other walks of life, 2020 has been a challenging year thus far for the team! With two staff seconded to Milton Keynes for COVID-19 testing and others juggling lockdown, home schooling and essential laboratory work, we have been relieved to be able to call on the help of rabies trained contingency staff within the Avian Virology team led by Dr Rowena Hansen. We are aware that other international rabies laboratories were forced to close for long periods, so we were pleased we could pull together to maintain our business critical activities.
One problem: illegal pet movement
Whilst lockdown restrictions on people movements has effected the non-commercial movements of pets under the European Union (EU) Pet Travel Scheme, the commercial movement of dogs and cats (including rescue animals) under the EU Balai Directive has continued in Europe. The EU estimates that 46,000 dogs are commercially traded between EU countries every month, most of them without being registered.
In February of this year, Members of the European Parliament backed a resolution to tackle illegal smuggling of pet cats and dogs. On 6 April, the UK government passed legislation in England (known as Lucy's Law) banning the third party sale of puppies and kittens to tackle low-welfare, high volume supply.
During the recent COVID-19 lockdown, a significant increase in the demand for puppies and kittens was reported and UK pet charities such as the Dogs Trust have urged prospective pet owners not to be fooled by online adverts from criminal networks illegally importing puppies and kittens, often under cruel conditions. It is hoped that the guidance and legislation will lead to pet owners obtaining pets directly from local licensed breeders or adopting from local rescue centres.
Profit over health
The illegal movement of pets is of concern with respect to both veterinary and public health. The appropriate health checks and vaccinations against rabies and other diseases are often not completed so as to increase the profit of the smugglers. In addition, the animals may suffer from behavioural problems as a result of poor interactions with people.
Clinical signs of rabies can overlap with other more common diseases in cats and dogs, so a questionable importation record and suspect behaviour can sometimes lead to a need to rule out rabies. We routinely test for canine distemper virus (CDV) when we receive any rabies suspect dog submissions at our lab and two recent cases were due to CDV encephalitis rather than rabies.
APHA's national and international collaborations
Our team continues to work locally and internationally with academia and reference laboratories to contribute to disease detection and control and to develop and assess novel vaccines against rabies.
Just before lockdown, we hosted a study visit by Dr Laith Al-Eitan, a research fellow from Jordan University of Science and Technology (JUST) under a scheme sponsored by the Cooperative Threat Reduction (CTR) Program of the US Defense Threat Reduction Agency (DTRA). Laith worked with us to develop a rabies diagnosis and biosafety training programme and to do some research on rabies virus isolates circulating in animals in Jordan.
We also hosted another study visit by an international colleague through our links with the OIE reference laboratory in South Africa (OVI) who studied the prevalence of bat rabies in Nigeria.
Fortunately, both visitors managed to complete their laboratory work and return home safely.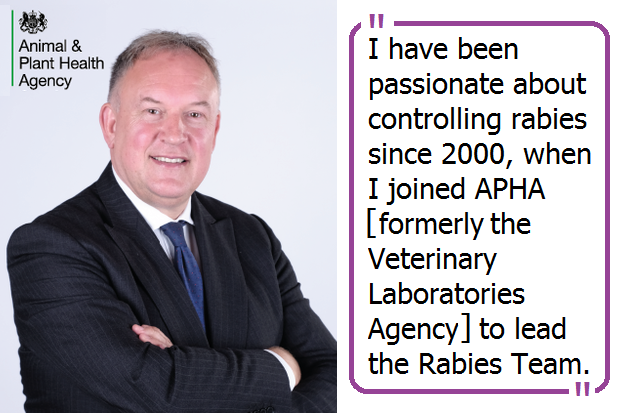 Professor Tony Fooks is the Director of the World Health Organisation (WHO) Collaborating Centre for Rabies and the Head of the OIE (World Organisation for Animal Health) Reference Laboratory for Rabies.
When I joined the rabies team, it comprised a small team of diagnosticians. The team has grown in number and status and has an international reputation for rabies expertise and an enhanced remit to work with a broad range of other zoonotic pathogens, including diseases of wildlife and diseases spread by insect vectors.
In 2017, I accepted the role as Lead Scientist for International Development to enable a range of EU Exit preparations for science and to develop the strategy for international engagement and influence. This year, whilst retaining the Lead Scientist role, I returned to APHA's Virology Department as Head of Department. During all of this time I have continued to develop international outreach strategies for rabies and work with Lorraine McElhinney who is now leading the Rabies team.
In particular, we were successful in developing laboratories in China (see the OIE Twinning Report, 2015) and India (see the Veterinary Record abstract, 2016) as part of OIE Twinning Programmes. Both laboratories are now OIE Reference Laboratories and act as regional focal points to provide support and training to countries in their respective regions.
International Work to Understand and Eliminate Rabies
Since 2018, in my role as Lead Scientist for International Development, I have been working with the Defra Animal, Plant Health & Welfare (APHW) Team with agreement from the UK's Chief Veterinary Officer, Christine Middlemiss and the Deputy Chief Veterinary Officer, Richard Irvine, to develop a One Health Programme for overseas development. This culminated in a successful bid for this fiscal year with funding of £596K from the Defra Official Development Assistance (ODA) Team to focus on pandemic preparedness. I will lead a project on "The Transmission Chain of Emerging Pathogens from Wildlife to Pandemic Diseases: Diagnosis, Epidemiology and Risk-Based Modelling". In close collaboration with the Defra APHW Team and other agencies in the Defra Group, the One Health Programme has been further progressed to focus on two key drivers: (1) Preparedness and Response to Zoonotic Emergencies and (2) Safe and Sustainable Food Systems.
Funding for rabies elimination projects as part of the One Health Programme is subject to the outcome of this year's Spending Review.
As part of the first theme of this programme, a rabies project has been planned and will, if funded, be operational in selected countries in Africa and Asia. The project incorporates different stakeholders from the UK who would work together to undertake rabies elimination in dogs. APHA would provide technical assistance for these projects in priority ODA countries. As the UK recently hosted the GAVI Global Vaccine Summit, securing a further $8.8bn for GAVI's work over the next five years, discussions with GAVI continue to ensure complementarity of the planned rabies elimination project with their work.
Lorraine and I also participated in the United Against Rabies: One Health in Action - Partnering for Success stakeholder meeting. This virtual meeting was organised by the Tripartite of the Food and Agriculture Organization of the United Nations (FAO); the World Organisation for Animal Health (OIE) and the World Health Organization (WHO). The purpose of this meeting is to engender regional support for rabies control linked to national control programmes in order to meet the requirements for the 'Zero-by-30' campaign, which is an international strategy to eliminate dog-mediated human rabies by 2030. The annual World Rabies Day 2020 follows previous activities to raise global awareness of rabies.
This year, I will be participating in an event organised by the OIE Office in Central Asia, which will include participants from five central Asian countries who are preparing their national control programmes for rabies control in dogs.
As an International Reference Laboratory for rabies, APHA scientists in collaboration with Defra, other government departments, the OIE, FAO, WHO and the Global Alliance for Rabies Control are continuing to participate in international projects to eliminate dog-mediated human rabies by 2030.
"The international technical assistance provided by APHA will be in controlling dog-mediated human rabies cases using a regional control programme from countries in the Indian sub-continent, Africa and Asia"

Professor Tony Fooks, APHA
"I want to thank the Animal and Plant Health Agency for its invaluable work on disease detection and control here in the UK and with partners around the world to help eliminate dog associated human rabies by 2030.

While rabies was eradicated from all UK animals except bats in 1922, it continues to remain common in dogs in other parts of the world. This is why we have a rigorous pet travel border regime that ensures every dog travelling into Great Britain has its microchip and passport checked to make sure they are properly vaccinated and old enough to travel.

This year we've seen a significant rise in the demand for pets, so World Rabies Day is a timely reminder for everyone to make sure their dog has the vaccinations they need so that we can continue our fight to eradicate this terrible disease."

Christine Middlemiss, UK Chief Veterinary Officer
Further Reading:
Fooks, A.R., Banyard, A.C., Horton, D., Johnson, N., McElhinney, L.M. and A. Jackson (2014). Current status of rabies and prospects for elimination. The Lancet. pii: S0140-6736(13)62707-5. doi: 10.1016/S0140-6736(13)62707-5.
Fooks, A.R. Cliquet, F., Finke, S., Freuling, C., Hemachudha, T., Mani, R., Müller, T., Nadin-Davis, S., Picard-Meyer, E., Wilde, H and A. Banyard (2017). Rabies. Nature Reviews Disease Primers 3; 17091.Rabies: Scientific Basis of the Disease and Its Management (2020). Anthony R. Fooks (editor), Alan C. Jackson (editor), Elsevier, The Netherlands.
Preliminary Outbreak Assessment for Cat Rabies case in Italy
Guidance for purchasing pet cats and dogs: