For the past 5 years APHA has held a mathematical modelling symposium at its central Research & Development facility at Weybridge. Charlotte Cook (Computational Biologist) talks about how the day went.

The event is attended by scientists, policy makers and academics from across the UK.
Animal, plant and aquatic health modeling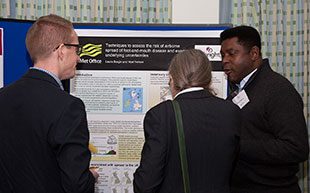 Each year there is a slightly different topic, but the common theme is mathematical modelling and how it is used to protect health. This year the topic was 'Animal, plant and aquatic health modelling: making best use of evidence'. We had the largest audience yet with 90 people attending to hear speakers from around the country.
Introduction
Nigel Gibbens, Chief Veterinary Officer UK, introduced the day and highlighted the essential role that good quality data plays in producing good quality science. This is also true of mathematical modelling where the data used may come from many different sources, often the data has been collected for reasons that have nothing to do with scientific research.
One of the important aims of the series of mathematical modelling symposiums is to promote and share good practice, education and communication between all the attendees. It is often the case that mathematical modellers in animal health can learn a lot from mathematical modellers in other scientific fields and vice versa. To encourage this sharing of experience, the modelling symposium invites speakers from many different areas of expertise, including human, plant, aquatic and animal health.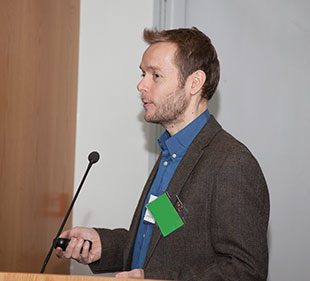 Ebola epidemic in West Africa
One of the topical presentations was from Professor John Edmunds from the London School of Hygiene and Tropical Medicine. He spoke about the work they did to help combat the recent Ebola epidemic in West Africa. Mathematical modelling played several roles from helping to plan how many hospital beds were required to designing vaccination trials.
Monitoring wild animals
APHA scientists gave presentions on how mathematical models are being used to predict the abundance of different species of wild mammals around the UK.
This work uses information on mammal sightings gathered from many different organisations around the UK, including information gathered by UK 'citizen-scientists'. It is important to monitor the levels of wild mammals on a regular basis to be able to detect any changes.
Further discussion
There was plenty of time for discussions between each presentation and at the end of the day. This gave the audience a chance to participate in discussions ranging from 'how best to prepare for modelling in outbreaks' to 'how data collection can be improved'.
The day was a great success with the attendees and speakers, with a lot of knowledge exchanged and strengthening of ties with universities working in complimentary fields to APHA. A full detailed write up of the event was published in the Veterinary Record.
Follow APHA on Twitter and don't forget to sign up to email alerts.