APHA staff get up to many exciting and interesting things. There are all the usual activities, such as attending international conferences, working on the research bench, writing papers for journals and much more.
Sometimes they also go sailing!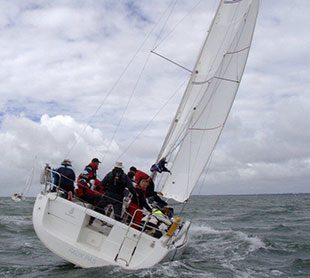 Every year the Civil Service Sailing Association (CSSA) organises the Interdepartmental Offshore Regatta (IDOR) and this year APHA entered a yacht.
The skipper of the yacht was Professor Trevor Drew, who is the Lead Scientist for the Animal and Zoonotic Viral Diseases portfolio. This means being responsible for ensuring that all of the research, surveillance and diagnosis concerning viral diseases are well designed, of appropriate quality and fit for purpose. Last year Trevor visited Buckingham Palace to receive his OBE (Officer of the Most Excellent Order of the British Empire) from the Queen in the Birthday Honours. This very prestigious award was given to Trevor for outstanding service to animal health and welfare through contribution to research and control of viral diseases at a national and global level.
Trevor also gives much of his spare time as a volunteer, supporting the CSSA as Vice Commodore.  The Association has a number of dinghy and big boat clubs all around the country, so if you fancy a go, visit their website at www.cs-sailing.org.uk to find out more.
Colleagues from across APHA joined Trevor during the one week of races in the Solent and around the Isle of Wight, with the costs of the yacht charter and entry to the Regatta being divided among them. The crew were from all parts of the agency, providing an excellent example of how APHA disciplines work together to meet multi-disciplinary challenges:
Elaine Gildon, Business Support for Epidemiological Sciences in Weybridge
Antonio Valcarce, Veterinary Officer from the Midlands
Katie Rose, Senior Veterinary Inspector, Llandrindod
Adrian Kelly, Plant Health & Seeds Inspector and seasonal Bee Inspector
Lissie Fuller, HR Business Partner, Worcester
Mark Horigan, Head of Reagent Production Unit, Weybridge
Jane Clark, Veterinary Lead for Avian Virology, Weybridge
The crew did quite well, considering their relative lack of big yacht experience, with early race results in the lower half of fleet but up in the top half by the end of the week. And, most importantly, everyone came home unscathed, apart from some impressive bruises and with no extra bills to pay for breakages!
The crew have been raising money for The Lifeboat Fund which was formed by Civil Servants in 1866 and is celebrating its 150th anniversary this year. During the week, Trevor and his crew visited the RNLI Lifeboat Station in Cowes and heard all about the great work they do.
Follow APHA on Twitter and don't forget to sign up to email alerts.