Sarah Stewart, APHA Stakeholder Engagement Manager, talks about the Government Science and Engineering (GSE) event that she attended with Nick Coldham, APHA Head of Bacteriology.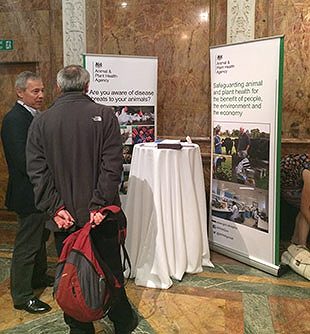 Nick and I represented APHA at the launch of the new GSE Five Year Science Strategy held at the Royal Society in London on Monday 10 October.
On the train journey from Weybridge to Waterloo we discovered that we had both worked as scientists at Imperial College in Paddington in the '90s and despite the fact that we were both familiar with London, it still took us a while to find the grand, white building of the Royal Society along the Mall because it was cunningly shielded by tarpaulins during building repairs. Once inside we found the grand, marble hall where we set up a small exhibition to talk to attendees about APHA science.
The Government Science and Engineering profession was set up in 2008 by Professor John Beddington to bring together the best science and engineering skills and knowledge in government. Civil Servants with a scientific or engineering background became a highly valued group who work together to provide useful data and advice to government.
There are now over 10,000 members with a diverse range of scientific and engineering expertise across the Civil Service, who provide evidence based advice to Ministers to develop policies which ultimately help to secure the resilience, wellbeing, health and security of the UK.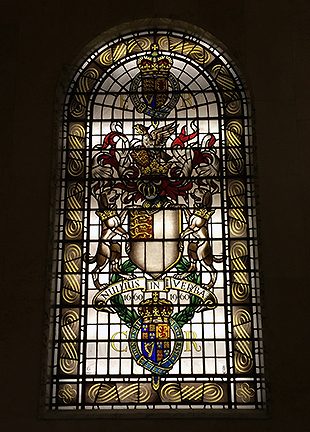 Around 60 senior civil servants and scientists from Government departments and agencies attended the event and Nick and I met representatives from the Met Office, Environment Agency, Home Office, Health and Safety Executive and others to talk about APHA scientific work. We were particularly pleased that Professor Sir Mark Walport, Head of the GSE Profession and the Government's Chief Scientific Adviser, took a postcard advertising our new Science blog, to look it up - we hope he's our newest follower. You may also like to see the GSE blog.
At 6.30pm delegates moved into the meeting room to hear a number of interesting presentations from HSE, Home Office CAST and the Met Office, giving examples of how science projects have shaped policies. Case studies included new drug testing devices that were assessed and developed in readiness for the launch of a new policy to stop and check drug suspects in the same way as drunk drivers; development of models to asses climate change; and the sharing of meteorological data to enhance data sets. One of the examples made reference to the Farm Visit/Livestock programme that APHA and the Met Office are working on together.
Mark Walport ran through the key action points of the strategy and highlighted the importance of recognising scientists for their contribution to the development of policies and of improving diversity and inclusion, and secondment opportunities within the profession.
Jeremy Heywood, Cabinet Secretary and Head of the Civil Service, followed up with an inspiring talk about the importance of scientific evidence in shaping the future of the Civil Service, which is currently facing some particularly challenging areas of work.
After the presentations we continued our conversations with the delegates and speakers and even managed a few mouthfuls of the fabulous canapés that were on offer. It was a great opportunity to meet, learn from and share knowledge and experience with fellow government scientists and we were really pleased to hear the strong support for the scientific profession within and across Government.
Follow APHA on Twitter and don't forget to sign up to email alerts.