Over the last four years we've been running a large and interesting pig health project, with farmers taking part in a range of intervention trials to see what worked in terms of Salmonella control.
The Defra-funded project was tasked with investigating the effectiveness of Salmonella control measures on farms, to define the best and most cost-effective methods, and to effectively communicate the resulting information to pig producers in a highly motivational way.  This involved three intervention studies which looked at the impact of Salmonella vaccinations in sows, improved cleaning and disinfection programmes and the impact of moving sites for outdoor herds.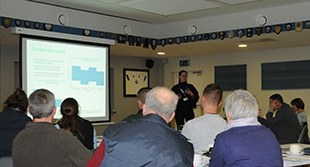 In order to share the findings from our research, and as a thank you to the farmers who have taken part in our studies, we have started holding roadshows in key pig farming areas.
We have found these to be a very effective way of engaging with farmers and the pig industry as a whole, allowing more in-depth discussion of the practical aspects of the research and allowing the scientists to better understand the issues facing the industry.
This year the roadshows were in Wetherby, Yorkshire and Diss, Norfolk as these locations allowed farmers from the main study areas to attend. The meetings were held in January and February 2017 and were run in conjunction with AHDB-Pork who provided the venues, catering, promotion and registration.
The attendees
Attendance at both meetings was high with over 30 delegates attending in Wetherby and over 40 in Diss. Participants included pig farmers, pig vets, feed specialists, journalists and other industry representatives. It's great when lots of people turn up, though it does mean they need managing – 'herding' and 'cats' seems to be the general consensus.
The talks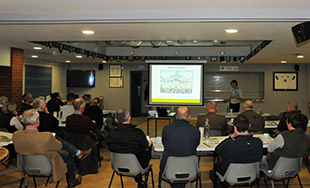 The meetings began with a talk from Susanna Williamson, APHA Pig expert and winner of the David Black Award 2016. This covered the 'Hot topics in pig disease' including African swine fever, atypical porcine pestivirus and porcine epidemic diarrhoea as well as changes that have been observed in porcine reproductive and respiratory syndrome virus.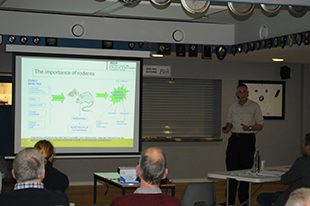 Richard Smith, APHA Epidemiologist, provided an update on the findings from the Salmonella vaccination and outdoor unit interventions which pig farmers had participated in over the past four years.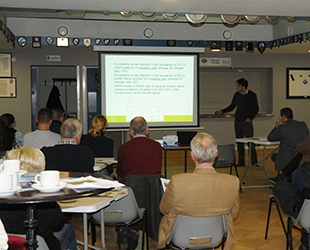 Following agreement from the farmer, sows within eight pig herds were vaccinated against Salmonella and the impact of this was followed through to the finisher pigs when they were ready for slaughter.  Eight unvaccinated 'control' farms were also followed over the same time period.  For the outdoor herds, nine farms were followed over a 12 month period during which time pigs were moved to a different site.
The impact of this outdoor site move on Salmonella presence was assessed. Richard also presented the findings covering the importance of cleaning and disinfection on reducing the presence of Salmonella.
Finally Rob Davies, Salmonella Consultant APHA, discussed pest control as this also has a huge impact on disease control.
The tasks
After the presentations we divided everyone into groups and asked each to discuss a disease scenario. The groups in Wetherby discussed Swine Dysentery and the groups in Diss discussed Virulent Porcine Epidemic Diarrhoea. Each group were given the scenario 'The disease has been reported in your region. How do you protect your farm?'
Three tasks were issued:
Task 1: What are the risks?
Task 2: How can the risks be controlled?
Task 3: Which risks do you have the least control over?

Discussions were lively and ended with a full room feedback session to ensure all points were captured. Similar themes and concerns were raised for both diseases, highlighting the general good practice standards which can impact on most diseases.
These were:
Cleaning and disinfection
Dead stock
Equipment
Farm staff
Feed
Live pigs/semen
Manure/muck spreading
People
Transport
Wildlife
Also, on the outdoor farms, communication with adjacent farms/local community was highlighted as a key factor.
Going forward
A lot of very positive feedback was received following the events from participants as well as from AHDB-Pork who have offered to fund more roadshows in conjunction with APHA in the future.
Follow APHA on Twitter and don't forget to sign up to email alerts.