Stefan Berg, senior scientist at APHA, highlights the agency's 15-years engagement in collaborative research on bovine tuberculosis (bTB) in Ethiopia.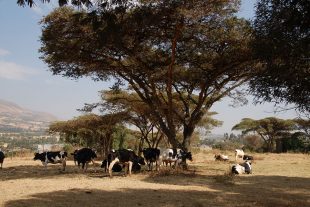 Our research has been exploring different research questions on bTB relevant to both the local population as well as to an international community, and it has improved our understanding of the prevalence of bTB in the Ethiopian cattle herd and its human population.
TB in Ethiopia
Bovine TB is endemic in cattle in Ethiopia and the disease is most significant in intensified husbandry systems that hold mainly exotic breeds or crosses with the local zebu breed. This includes the well-established dairy sector in central Ethiopia where many regions face 40-50% herd prevalence. In the human population, a relatively low level of bTB has been recorded but there is a constant risk of zoonotic transmission to high risk groups, such as farm workers and to milk consumers in general, as pasteurisation is not yet common practice.
What are the benefits of APHA's research?
An important part of our collaboration with Ethiopia has been to boost our knowledge on the efficacy of Bacille-Calmette-Guerin (BCG) as a vaccine against bTB in cattle. In the UK, vaccination is considered as a complementary tool to the current test-and-slaughter policy to eradicate bTB. However, in a developing country such as Ethiopia, where test-and-slaughter compensation schemes are too costly for the farmer and the government, an efficient vaccine could be a cost-effective control strategy. Therefore, Ethiopia and the UK have a mutual interest to evaluate vaccines against bTB and studying bTB in Ethiopia allows our researchers to explore the efficacy of BCG under natural transmission settings.
In two research experiments, we conducted trials where vaccinated cattle were exposed to a highly infected dairy farm. Both experiments demonstrated that BCG vaccination offers statistically significant protection against bTB. Further information on these studies is available in Clinical and Vaccine Immunology (2010) and in the recently published study in Transboundary Emerging Diseases (2017).
Our research has been conducted by Martin Vordermeier, TB Immunology and Vaccinology Team leader, Glyn Hewinson, TB Lead Scientist, and Stefan Berg, Senior Scientist from the Bovine TB research group, in collaboration with research teams in Ethiopia led by Abraham Aseffa at the Armauer Hansen Research Institute and Gobena Ameni at Addis Ababa University.
What is next?
Our collaboration with Ethiopian institutes to control bTB continues through the 'Ethiopia Control of Bovine Tuberculosis Strategies' project. I am co-ordinating this work, led by Prof James Wood at Cambridge University and Glyn Hewinson. It aims to provide a strong scientific understanding of the drivers of bTB infection in Ethiopia to help underpin the development of sustainable control strategies for bTB in Ethiopia. This multi-disciplinary project is gathering both biological and social science data and a new BCG efficacy trial is also included for the most common breed in the Ethiopian diary sector - Holstein-Frisian/Zebu cross-bred cattle.
This research project was funded by the Department for International Development and the Biotechnology and Biological Sciences Research Council who pay for the vast majority of the work through the Zoonoses and Emerging Livestock Systems initiative. Defra also provide additional funding to cover the costs of APHA scientists working on the research.
Follow APHA on Twitter and don't forget to sign up to email alerts.