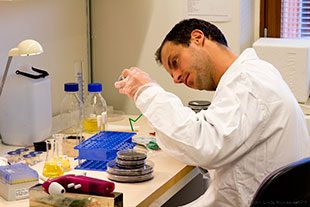 Nick Kell blogs about a typical working week as a Campylobacter laboratory manager in the Bacteriology Department at APHA Weybridge. 
As an agency of Defra, APHA works to safeguard animal health for the benefit of people, the animals themselves and the environment. The work I carry out encompasses areas such as disinfectant testing, surveillance for zoonotic bacteria and the study of food borne bacteria. I participate in laboratory and field studies on food-borne and veterinary pathogens including Campylobacter, Salmonella and E. coli.
Below is an example of a week in my working life!
Monday
In general Mondays tend to be a set up day for the rest of the week. I ensure test controls are set-up ahead of Campylobacter testing, setting up of disinfectant tests and ensuring all members of the team know where their skills are most needed for the week. (Also Mondays seem to be the day of meetings….included in today's meetings was a new proposal for a disinfectant project and an update on a Salmonella project)
Tuesday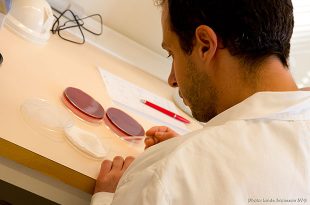 Within the Department we recently took receipt of a new (expensive) bit of kit and today was spent being trained how to use it. The MALDI-ToF (Matrix Assisted Laser Desorption/Ionization Time Of Flight) is an instrument that uses a laser and an energy absorbing matrix to create ions from large molecules (proteins) with minimal fragmentation. The time it takes for the molecules to reach a detector in a vacuum produces a unique fingerprint and this can then be compared to those of thousands of bacteria in a library. This allows bacteria to be identified within minutes instead of the usual laboratory based techniques, which for some Campylobacter can take 5 days. The next few months will be spent becoming fully trained in use of the new equipment and validating it to ensure reliable/consistent results are being produced when compared to more traditional laboratory techniques.
Wednesday
2 colleagues and I travelled to a pig farm in Wiltshire. This trip was set up as a screening visit to determine the level of Salmonella present before a number of possible interventions are introduced in order to reduce the prevalence of Salmonella.  Farm visits are a major part of the Salmonella monitoring work and in general there is one visit a week which can be to anywhere in the UK. I have always found the visits very informative and useful as you get a picture of where the samples have come from and a greater understanding of what measures need to be applied. The visits can be hard /smelly/dirty days but are rewarding in seeing the initial phase in efforts to reduce Salmonella (and getting you out of the office for a day!).
Thursday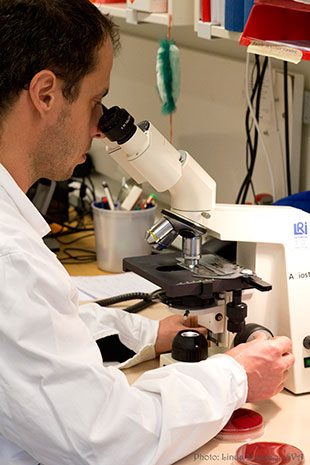 Thursday saw me spend the morning in the Salmonella lab processing all the samples from the visit the day before. There was a team of 3 working on the samples and as always the team spirit was great (even if other members of staff were complaining about the smell!).
There were a number of different samples; general swabs which will give a simple positive or negative result; individual faeces samples which will give a quantitative result (how many) and a number of environmental and feed samples. All samples get processed on to specific selective agar plates, incubated and then read the following day.
The afternoon was spent fulfilling my other main role as Local Quality Representative for the work group. I particularly enjoy this role as it gives me an overview of not only the projects in my work groups but also those within the department and agency.
This role can be challenging as quality assurance is an integral part of all of our work but also very satisfying when tests become accredited and official samples can be processed by a new novel technique. Our work group is accredited to 2 standards: ISO9001:2015 and ISO-17025.
It is the latter standard which is my biggest priority at the moment as auditors from the governing accreditation body, UKAS, are coming to audit the department later in the year. In order to meet the requirement for continuous improvement a local decision was taken to implement an internal audit plan. Our plan has helped us focus and prioritise our objectives to ensure all areas within the department have been internally reviewed ahead of the UKAS visit and any issues or improvements have been identified and addressed. This week's area was Training Records and, as I like to see, only a few very minor actions were noted.
Friday
Today will be spent on the disinfectant testing side of the work group. The disinfectant testing carried out in the work group is a requirement by Defra to ensure disinfectants are approved under the Animal Health Act for disease control. The approval and inclusion of the disinfectant on the list is dependent upon demonstration of the efficacy of the product at the dilution rate specified by the manufacturer. This is an extremely important part of the work group's responsibilities and can impact major decisions at commercial and even parliamentary level.
Follow APHA on Twitter and don't forget to sign up to email alerts.