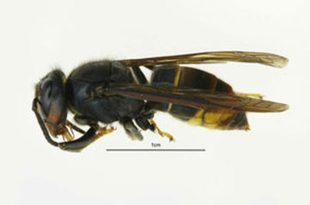 In a recent blog post, Nigel Semmence from the National Bee Unit spoke about the Asian hornet and APHA's work to prevent the spread of this non-native species and protect bee health. This work, from early detection to eradication, is underpinned with science.
Since that post was published, Asian hornet was discovered in the Woolacombe area of Devon in September.
Watch APHA staff in action at the recent outbreak
Staff from across APHA worked together to rapidly contain the outbreak. The team were visited at the site of the outbreak by George McGavin from BBC's The One Show who filmed the successful eradication. George was accompanied by Dr Niall Moore, Chief Non-native Species Officer, who explained the importance of early detection of Asian hornet and potential impact if it were to establish. The visit can be viewed here on the BBC iPlayer. The clip begins at 2 minutes 20 seconds, lasting approx. 4 minutes.
How you can help
If you think you have seen an Asian hornet, please notify the GB Non-Native Species Secretariat by emailing alertnonnative@ceh.ac.uk as soon as possible. Alternatively, you can report sightings online.
The 'Asian Hornet Watch' app is also available to download from the Apple and Android app stores.
Beekeepers can find more information about the Asian hornet on the National Bee Unit's website.
Visit our YouTube channel and view our video on how to make an Asian hornet monitoring trap