Paul Beales, Head of Plant Health Technical Extension Team, talks about the long and winding road to winning a prestigious gold medal at the RHS Chelsea Flower Show.
Looking back through an old note-book, I discovered an entry for a meeting dated 27 June 2017 entitled 'RHS Chelsea planning 2018'.
Of the many plant health engagement activities we do throughout the year, Chelsea work really does start very early!  Learning (hopefully) from the experiences of the previous year, which was the first team effort at Chelsea without a professional external designer, we had a show of hands whether the inevitable sleepless nights pay dividends and we should pursue a showing at the 2018 event.
RHS Chelsea impacts a massive national and international audience, and with BBC and numerous media opportunities, enthusiastic gardeners, professional horticulturalists, parliamentary groups and royal visitors, the opportunity to raise plant health awareness to the interested multitudes proffers real benefits for protecting the UK environment against harmful plant pest and disease threats.
The first steps
Our colleagues in Defra identified an embryonic initiative to focus on one particular tree - the iconic oak - that would bring groups together from all around the UK who had an interest in protecting this species.
The project, subsequently called 'Action Oak' aims to raise awareness of oak diseases and to raise vital funds for research and further monitoring to help management of our oak trees. It would further contribute to the Government's 25 Year Environmental Plan to strengthen biosecurity and build resilience to protect and enhance our precious oak trees for future generations to enjoy.
With Action Oak requiring an official launch, we had both a theme and a platform at the show. My three team members from APHA and a colleague from Defra group Communications sat down with some paper and together we drew together a design that was engaging, informative and interactive – all requirements for the Chelsea submission.
After last years 'bluebell blunder' when most of our lovely bluebells died a couple of weeks before Chelsea and working on plan 'Z' with some of the other plants,  we decided to keep the planting simple and focus on the life of an oak, running in parallel with the old 14th Century proverb "from little acorns, do (mighty) oaks grow".
RHS approval and growing acorns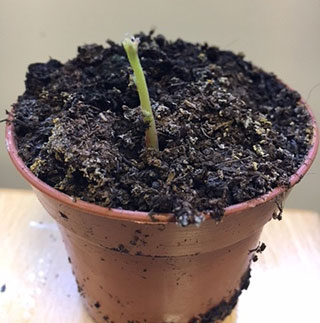 The proposal was passed to the Action Oak Steering Committee and was well received, so was submitted (ca. August 2017) to RHS Chelsea first stage approval for a position in the discovery zone of the grand pavilion. Everything went rather quiet for the next few months, while we waited for the outcome of our submission.
However, certain aspects still needed to be worked on if the proposal was accepted, particularly the plants.  The director at the nearby Yorkshire arboretum is always prepared to help, and allowed me to come and collect a few bin bags of acorns after they had fallen.  Fortunately, 2017 was a bit of a bumper crop for acorns, and I easily collected enough.
I discovered that acorns have to be sown in the 'green' i.e. unlike some seeds that require an overwintering season, acorns should be planted directly.  My windowsill at the Sand Hutton office near York was therefore full of trays of planted acorns – watched avidly and watered by my colleagues in the office they soon began to show signs of life.
It was incredible to watch the diversity of shapes and range of emergence times for the little oaks (all collected from just one tree).  Some popped up quickly with two 'classic' looking oak leaves, others grew very long stems before producing the smallest of leaves, and a further one, a massive leaf, and two relatively tiny ones that looked nothing like an oak!  The larger, more mature trees were sourced from a tree nursery who follow strict biosecurity practices and were sourced and grown entirely in the UK.
Building the stand
It was now time to start working on the detail of the display - the interactive elements and the visuals. The three back walls highlighted the importance of oak throughout history, some of the key plant pest and disease threats, the aims of Action Oak and how individuals could get involved.
Within the exhibit, oak plinths (weighing around 250kg each!!) supported Perspex boxes each containing further information about one of the pests or diseases people may have discovered from the back wall - including a grey squirrel removing bark from an oak log, powdery mildew fungus on oaks, acute oak decline and Oak Processionary Moth lifecycles.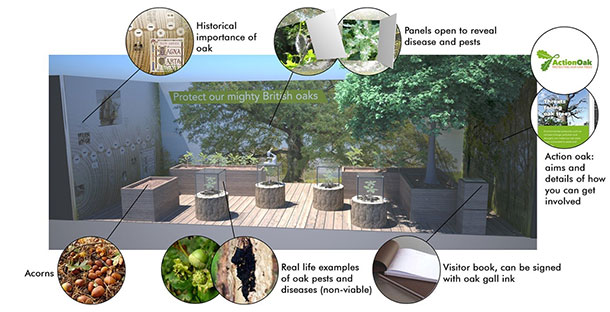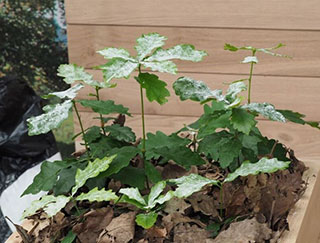 As we were extremely conscious not to bring live pest and disease into Chelsea, we spent some time coming up with ways to best present these.
Our squirrel was a taxidermy specimen from the APHA wildlife team; powdery mildew was 'faked' using talcum powdery dusted over slightly nutrient deficient saplings.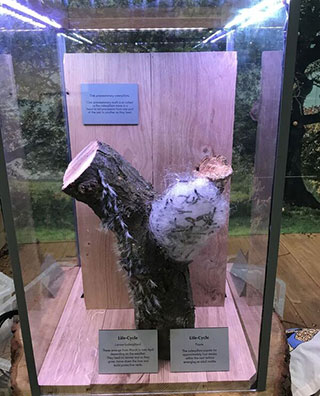 And the acute oak decline was provided by colleagues from Forest Research and Oak Processionary Moth (although present in the vicinity) was made using a combination of my daughters coloured clay, angel hair from Christmas trees mixed with other fine wools for its nest and an easy clean Harris paint brush for the  larval hairs (which took the whole of the bank holiday to stick individually onto each larva!).
The cabinets were down-lit with LED lights and a microscope showing close up of the urticaric hairs of oak Processionary moth and spores of powdery mildew finished these off nicely.
Other features included an actual piece of HMS Victory, kindly loaned from the national museum of the royal navy, a video looping Judy Dench's 200 year old tree in vector graphic format and a book that could be signed by visitors who supported protecting oaks using a pen made from reclaimed oak from York Minster (dated ca. 1250) with ink made from oak galls (the traditional way of making writing ink until the 20th Century). The book and pen rested upon a Perspex display full of oak galls. All the flooring and furniture were provided by a woodland heritage sawmill.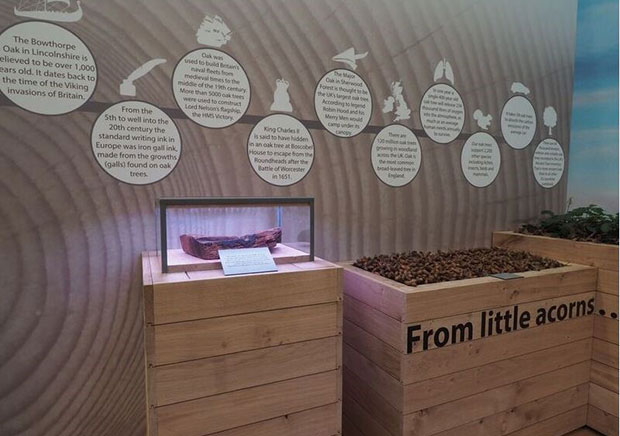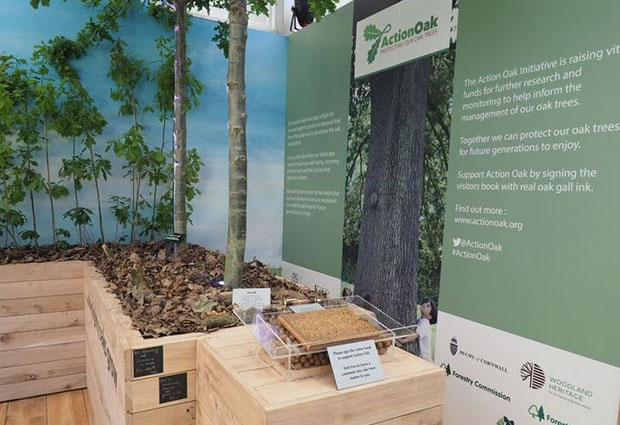 Run up to the show
As the show drew nearer, the sleepless nights grew more frequent but thanks to a wonderful team the build went ahead, every acorn and leaf was polished and ready for the judges first thing on the Monday.
This is always the more anxious of times – will the lights/video/ microscopes work? Why has the squirrel's Perspex box begun to steam up? I did wonder whether it was just a well-trained squirrel and not stuffed. But everything went smoothly and the judges spent about 20 to 30 minutes analysing every minutia of detail before making their decision.
The judging panel consists of about five members and two moderators and includes a 'pre-judge' on the Sunday and a validation type meeting with judges from across the show.
Show day
Monday is media, VIP and Royal day and we were privileged to be visited by the Prime Minister and her husband, Michael Gove (Secretary of State for Environment, Food and Rural Affairs), George Eustice (Minister of State at the Department for Environment, Food and Rural Affairs) and Nicola Spence (UK Chief Plant Health Officer).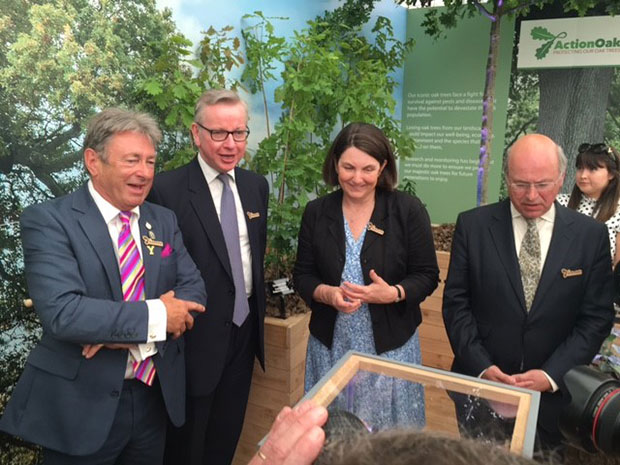 Lord Gardiner (Parliamentary Under Secretary of State for Rural Affairs and Biosecurity) officially launched the Action Oak to a mass of media all wanting photos and interviews.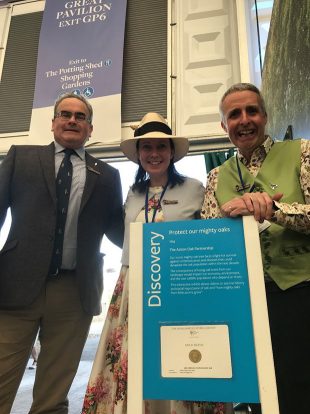 Representative leads from Action Oak partners including Geraint Richards from Duchy of Cornwall, Tony Kirkham the head of Arboretum at Kew) and Sir Harry Studholme from the Forestry Commission amongst others were also present.  Throughout the week, numerous other parliamentary groups and royals visited and learnt more about the project and plant health generally.
Tuesday is the day the medals are awarded and as my colleague and I approached first thing, we could see we had a medal and it looked quite bronze in colour from a distance, but to our joy when we looked closer (as you have to do with a discovery exhibit!) we were delighted to be awarded a gold medal.
The week attracted many thousands of visitors all of who were extremely supportive of the work that is being done to protect our oaks for future generations to enjoy.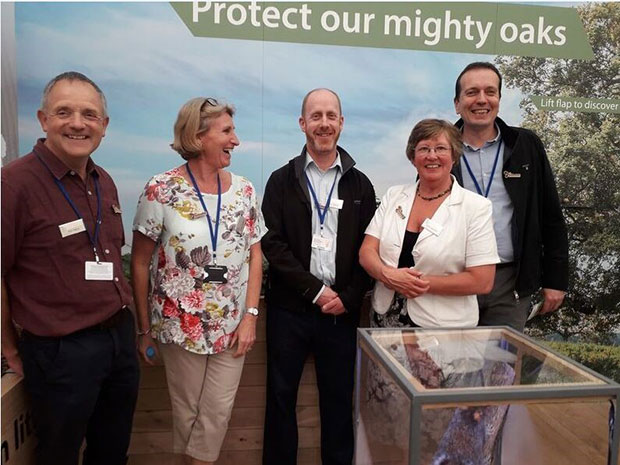 Find out more
If you would like to find out more about Action Oak please visit the  Action Oak website.
You can also donate £5 to the project by texting OAKS18 £5 to 70070.
There is also an opportunity to enter your favourite Oak photograph into the 'celebrating our oaks' category of the international garden photographer of the year (http://igpoty.com) - entries close 30 September 2018.