The Votes for Women series has now gone full circle. Our blog post sharing the achievements of female scientists at the National Wildlife Management Centre which kicked off our year-long celebration was published at the beginning of March, 100 years (and a few weeks…) after the Representation of the People Act 1918 (6 February 1918) which gave about 8.4 million women the vote (around two-thirds of the total population of women in the UK).
The first election held under the new system was the 1918 general election, which was called immediately after the Armistice with Germany which ended the First World War. It was held on Saturday 14 December 1918, and would also be the first time women could stand as parliamentary candidates. So today, exactly 100 years after this historical milestone in British democracy, I am publishing the last of my blog posts, having had the privilege to speak to some of the most respected (women) scientists working in animal health in the UK between 2010 to the present day.
Helen Crews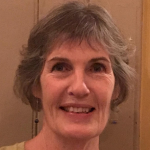 Helen joined the Animal and Plant Health Agency (APHA)* in December 2014 as Director of Plant and Bee Health after a long and fruitful career in scientific research and corporate management in various organisations. After retiring a couple of years later, she was made Officer of the Most Excellent Order of the British Empire (OBE) for services to Plant and Bee Health and voluntary services to the community in York.
Helen grew up in East Anglia and as science A levels weren't available at her single sex school she was one of the first intake of girls into St Joseph's College boys' school in Ipswich. This experience was a revelation as you might imagine and from then on, she usually studied and worked with more men than women because science subjects tended to be male dominated. However, the gender imbalance was never an issue for her. A levels were followed by a degree in biological science and masters in botany. After a year doing shop work in London whilst looking for her next career move, she was delighted to escape to Aberystwyth and the University of Wales where she did her PhD studying the impact of heavy metals from historical mining sites on plants.
Her next move was to become a food scientist! She joined the then MAFF Food Safety Laboratory in Norwich where the techniques she had used to study metals in plants could be transferred to food safety work. Shortly after joining, a new technique - inductively coupled plasma mass spectrometry - was being developed and the laboratory became one of the first users of the method in the world. It enabled multi-element measurements of individual isotopes of elements to be made, and over a period of 20 years, Helen worked with nutritionists and human volunteers studying the bioavailability from food of zinc, iron, copper, chromium and selenium as well as some of the toxic metals like arsenic, lead and cadmium. In her spare moments she also studied part time for a Masters in chemistry and travelled the world giving presentations and participating in EU projects.
In 2001 Helen moved from scientific research into corporate management and became the director of corporate services for the Central Science Laboratory (CSL) in York. One male colleague told her she had "prostituted" her science when she changed disciplines but being a scientist herself actually helped in leading and communicating change and provided an insight into what might be key concerns. Building on this, in 2008-09 Helen was the transition programme director for the merger of CSL with Defra's Plant Health Division (PHD), Plant Health and Seeds Inspectorate (PHSI), the Plant Variety Rights Office and Seeds Division (PVS) and the UK Government Decontamination Service leading up to the establishment of the Food and Environment Research Agency (Fera) in 2009.
After that she was pleased to move back closer to the science and head up Fera's Inspectorate programme which included the PHSI, PVS, the GM inspectorate, the National Bee Unit (NBU) and bee inspectorate. Two challenging issues dominated her time in this role. Firstly she became acutely aware of the importance of honey bees, working with the NBU, British Beekeepers Association and other stakeholders to establish the Healthy Bees Plan that Defra initiated in response to concerns about bee health and to complement the existing bee health programme. Secondly, the fees and charges frameworks for plant health, and plant varieties and seeds were being reviewed and she worked with policy colleagues, industry and devolved stakeholders in a series of task forces to help bring about change. All the networking with stakeholders was good grounding for her next role as head of the Better Regulation project in 2013 to establish Fera's response to the Government's agenda for improved regulation and reduction of burden on industry. This was followed by a year troubleshooting in food safety and quality and helping culture change in Fera in preparation for its move to the joint venture company Fera Science Limited in 2015.
In October 2014, the Inspectorates and PVS had transferred from Fera to APHA and in December of that year Helen became the director for plant and bee health. Helen "was absolutely delighted to be working with the inspectorates and PVS again. Their work is so varied and the staff so dedicated that it is a joy to go to work. Whilst change is always challenging I can honestly say it never stopped the APHA folk from doing an excellent job."
Helen says she was lucky to be able to choose when she retired and in 2016 she made the decision to go. She was "thrilled to receive an OBE for services to plant and bee health the following year. The fact that this is something that others nominate you for makes it very special." Just before retiring Helen became a Trustee for the Yorkshire Arboretum and this year also became a governor at York College. The college were looking for a female scientist to provide a role model for youngsters. Almost fifty years ago she went to study A level sciences and now finds herself in a position to champion those subjects. Full circle!
* The Animal Health Veterinary Laboratory Agency (AHVLA) became the Animal and Plant Health Agency (APHA) in 2014.
Nicola Spence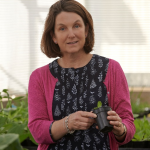 Nicola took up her post as Chief Plant Health Officer at the Department for Environment, Food and Rural Affairs (Defra) in April 2014, and later also became Deputy Director for Plant and Bee Health. She shares her thoughts on her career in science.
"I was always interested in science from a very early age, especially plant science. I realised how important plants were to all life and how fascinating they were so I decided to study botany at Durham University. After I finished my botany degree I decided to specialise in plant pathology, so I studied microbiology at masters level and then got my first scientific job at Horticulture Research International at Wellesbourne working on genetic resistance to white rot in onions. I then decided to specialise on plant virus diseases and studied for a PhD at the University of Birmingham on virus diseases of Phaseolus beans in Africa. This involved lots of field work in Uganda, Rwanda and Tanzania in particular. I also started several projects on virus diseases of vegetable crops in Kenya and virus diseases in UK grown vegetables, flowers are fruit. During this time I also had two children, born 18 months apart. I was determined to continue to work full time after maternity leave so through a combination of a wonderful child-minder and help from family I was able to continue to develop my career and enjoy family life in full.
In 2003 I moved to CSL to head up an international plant health team and later went on to become Head of Plant Health and then Chief Scientist in Fera. Between 2010 and 2014 I was chief executive officer (CEO) of Science City York, an innovation partnership between the University of York, York St John University and City of York Council. During this time I was often the only female scientist at a senior level at meetings and events, I saw this as an opportunity not a disadvantage but it was clear that there was a problem in representation. In particular I realised that access to suitable childcare was a barrier to many staff so I campaigned for a workplace nursery at Wellesbourne, which was eventually built and this made a big difference to many parents in the workplace. I campaigned separately for a before and after school club at the school my children attended and this made a big difference to me and others once our children were at school.
When the role of Chief Plant Health Officer (CPHO) was advertised it was described as part scientist, part risk manager, part diplomat and part leader. I felt that this described my skills and aspirations, and that I could make a difference. I started my role as CPHO in April 2014 and it involves advising ministers, industry and others about the risks posed by plant pests and diseases, and ensuring that measures are in place to manage those risks and minimise their impact, as well as leading the operational response in the event of a disease outbreak. Although plant health is a devolved matter; I co-ordinate the UK response to European and International plant health matters and take the lead on national plant health emergency response."
More Women CVOs……
You may remember in our previous instalment Professor Debby Reynolds who served as the Chief Veterinary Officer (CVO) of the United Kingdom between 2004 and 2007, the first woman to hold that post 111 years after its creation. Fast-forward 10 years, and we now have three out of the four CVOs for the British government who are women! We asked Christianne Glossop, CVO for Wales, and Christine Middlemiss, CVO for the UK, to reflect on their past and look forward to the future.
Christianne Glossop (CVO for Wales)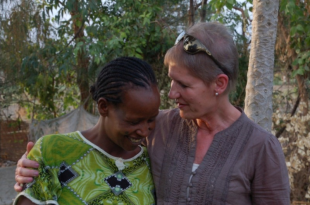 Which role models continue to inspire you?
I admire and am inspired by those who have gone the extra mile, have the courage of their convictions and make a difference to those around, particularly when they do this quietly, discreetly, with no "song and dance". I had the privilege of visiting Ethiopia a few years ago, and met a remarkable young mother called Bezunesh. Supported by the charity Send a Cow, she had learned to cultivate vegetable seedlings on her tiny garden plot, and sell them on to a local grower. As a result she was able to generate an income to support her three young children, to be independent and to hold her head high. Bezunesh probably will never leave her country, she will never hit the news, and yet she was making a real difference.
On the same visit I met Gobena Ameni – the veterinarian managing an APHA supervised project investigating the efficacy of BCG vaccine in cattle. He took me to visit a small holding, miles from town, several km off road, with no water or electricity. On arrival he was greeted by his mother – and the truth dawned on me – this is where Gobena had been born, grew up, where he studied, where he applied to veterinary school. "How did you do it?" I asked him. "It wasn't easy", came his reply, "I had to read my textbooks by moonlight". No more, no less – how inspiring is that?! (through Send a Cow you can buy a solar lantern for a family in Ethiopia – so why not help the next "Gobena" read his text books more easily?)
Can you recall encountering sexism in your place of work and how did you confront it?
Early in my career, I worked for an international pig breeding company, reporting to their Technical Director. Our relationship was always slightly strained and I couldn't understand why. Then one day, I was summoned into his office. He told me he didn't approve of my lifestyle, the fact I was married, had two small children and yet chose to work. Somehow I remained calm – all the awkwardness between us crystallised before my eyes, and became an object on which I could focus. When he had finished I told him neither my home life, my marriage, nor my family were nothing to do with him, and that unless they were affecting my work, I never wished to discuss them with him again. Strangely, we got on better after that. Hard to imagine this happening now though… (I left the company the following year, having decided the fight for promotion in such a man's world wasn't worth the energy. Best move I ever made!)
What do you wish for daughters/nieces/girls born today?
When my daughter Jess was 5 years old she once said to me "When I grow up I want to be a proper Mummy – and stay home to look after my children". Ouch!! She had no intention of hurting me, she was simply commenting on her dreams at that time. And yet she had made an important point. My hopes and dreams for her, and for all young women is that they can lead happy, healthy, fulfilled lives, proud of what they do and who they are, able to make real choices, whatever they might be. Some will choose a career, others a family, and others a combination of the two – all are equally fine. My career is very important to me, but nothing whatsoever trumps the joy and fulfilment of watching my two beautiful children grow up, make their own choices, and follow their own dreams. Not sure I have ever got the balance completely right, but I know I have been truly blessed to be able to blend my career with a family, and to have my home as my safe place, where I am loved and accepted and respected regardless of how the day job happens to be going. Incidentally, Jess's first baby arrived in September - it will be interesting to see what she decides to do next….
Christine Middlemiss (CVO for the UK)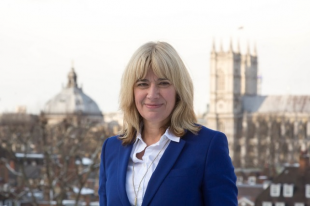 What advice would you give a 16 year old girl who would like to do your job one day?
Life is an experience, there is no right or wrong. There seems to be so much pressure on young women to be perfect at just about everything. Perfect doesn't exist. So my strong advice is learn from everything – the things that go well and from the things that don't go well. There are things that won't go well, not because you did anything wrong but just because that is the way of things. Don't beat yourself up about them, be yourself, and learn from them. And most important is to enjoy the ride. We are lucky in our profession to have so many opportunities to do different things, I never thought I would work for Government, circumstance led me here and to my surprise, I've really enjoyed it!
Which role models continue to inspire you?
As I move through different stages of my vet life, different role models have inspired me. I am the second Christine in our wider family to become a vet. The first, also from a Borders farming background graduated from RVC in 1942. It felt like a big step to go off to university in the big city when I did it, imagine how daunting it might have felt in late 1930s! Secondly the vet I saw a lot of practice with through school and university, Ian Peek in Duns never stopped learning from the cases he saw, never stopped questioning, never became complacent, you just can't with animals and disease. At the moment I am enjoying working with Professor Dame Sally Davies England's Chief Medical Officer, she has led the UK to be one of the world leaders on responding to AMR. She communicates technical information effectively and with great influence, and in a very relatable way.
How do the mentalities of society affect girls choosing to pursue STEM careers?
We are so impressionable when young. My (male 2nd world war hero) physics teacher at school said 'boys think that they can do science but often can't, girls think they can't do it but you can!'. That made a big impression on me, and gave me confidence. Yet still even at nursery school level children get this impression some things are only for boys. My 4 year old nephew is adamant that girls can't be super-heroes. He didn't want to go to rugby the day it was a lady coach! That's awful. He didn't get that attitude at home – girls there do everything the boys do, his Grandma is a farmer and 2 aunts are vets. His friend at nursery tells him these things. We need to continue to push to change the whole conversation, environment at all ages and levels.
Final Words from Flavie…
My final words will be a mix of "thank yous" and "sorries". Thank you to everyone who helped me research the lives and careers of the scientists featured throughout this series, and who kindly replied to my emails that will often have seemed to come out of the blue. I am particularly indebted to several incredibly helpful archivists at different academic institutions who uncovered some true gems. Thank you also to all the Ruths, Gwyneths, Enids, Connies, Janets and Debbys who have trodden where few women had trodden before and paved the way for the Lindas, Nicolas and Christines to follow. From serious debates about what colour lab coats women should wear to open disapproval towards married women choosing to have a family and a career and the not-so-subtle implications that they, as women, were not mentally and physically capable of doing a man's job, many of these scientists encountered adversity in their workplaces. Nevertheless, they persisted. And we are thankful they did! From work on anthelmintic drugs to help with the (Second World) War effort to seminal work on brucellosis, a zoonosis of global importance and the introduction of the first computers in the agency to aid statistical analyses of data, the contribution of these scientists to the current pool of knowledge on animal health and diseases in the UK, and beyond, is quite formidable. I will unmistakably have missed many other, equally formidable, women scientists who have worked at the Central Veterinary Laboratory/ Veterinary Laboratories Agency/ Animal Health and Veterinary Laboratories Agency/Animal and Plant Health Agency over the past 100 years, and to those I say sorry…and thank you too.