It is the third anniversary of International One Health day today (3 November). To mark this worldwide celebration I would like to tell you about the important work that APHA scientists are doing in One Health on a national and international scale.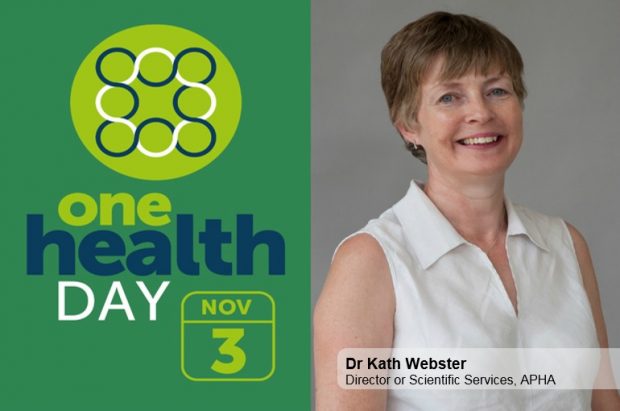 What is One Health?
One Health is a multi-disciplinary approach to address threats to public and animal health and the ecosystems that interlink them. This is directly aligned to the APHA mission to safeguard animal and plant health for the benefit of people, the environment and the economy.
Importance of APHA science
APHA science focusses on identifying and controlling endemic diseases (those commonly found in a particular area) and exotic diseases (those not normally found in the area) in animals, plants and bees. The results of our research and diagnostic testing on diseases provides the evidence to government policy teams at Defra and the Scottish and Welsh governments to impose restrictions to contain disease outbreaks and to develop policies to protect the country in the short and long term.
A recent incident shows the power of an integrated One Health approach across government departments.  An outbreak of Salmonella in humans, reported to Public Health England (PHE), was initially thought to be from imported food due to the ethnic profile of many of the cases.  However, APHA were simultaneously investigating an outbreak of Salmonella in UK livestock, and passed this information to PHE.  Whole Genome Sequencing (a molecular diagnostic test) and subsequent comparison of samples from both outbreaks revealed a link, enabling co-ordinated and targeted measures to be taken at all stages of the food chain from farm to fork to protect the public.  Interestingly, the outbreak in livestock was thought to be partly spread by wild birds, highlighting that the case involved not only human and animal health, but also the environment.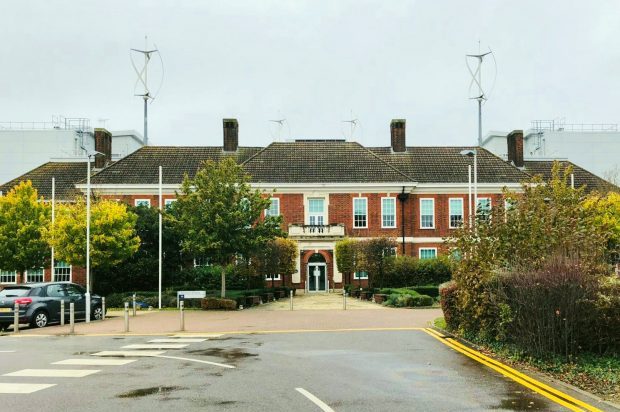 The APHA Science Directorate is made up of a range of science portfolios, departments and disciplines, providing the diversity of expertise to fulfil our role to protect Great Britain from any animal, plant or bee disease outbreaks.
One Health at APHA
Communication and knowledge exchange through internal and external committees and networks, at a national and international level, is vitally important to manage all disease situations whether they are classified as a threat, an outbreak or an emergency. Effective communication exists within APHA and between Defra, other UK government departments and agencies (e.g. PHE and Food Standards Agency (FSA)) and devolved governments. This also extends to international connections in the EU, Food and Agriculture Organisation (FAO), World Organisation for Animal Health (OIE) and World Health Organisation (WHO) to ensure new disease cases are acted upon quickly to contain them and prevent further transmission.
Some common themes relevant to One Health that APHA is working on across our science portfolios include anti-microbial resistance (AMR), zoonoses (diseases that can cross from animals to humans) and emerging threats.
Zoonotic infections are important. It is estimated that more than six out of every 10 known infectious diseases in people are spread from animals, and three out of every four new or emerging infectious diseases in people are from animals. Some pathogens are also capable of reverse zoonoses; with a risk of spreading from humans to animals.
Bacterial Disease and Food Safety Portfolio
The Bacterial Disease and Food Safety Portfolio is currently carrying out a range of One Health projects with funding from Defra, the Veterinary Medicines Directorate, FSA , Scottish Government, Welsh Government and the EU Horizon 2020 programme.
An historic success story is the eradication of brucellosis in GB livestock (the last case was reported in 2004). Science is now focused on assuring disease freedom and contingency planning. Our international reference laboratory supports control efforts in other countries, reducing the global threat from this devastating disease. We keep a watching brief on a wide range of other zoonoses and APHA is at the front-line of surveillance for antibiotic resistance in bacteria from animals.
We have a close working relationship with similar veterinary institutes across Europe and elsewhere and harmonise our approaches to allow comparison globally.  A great example, is our involvement in a landmark One Health partnership European Joint Programme (OHEJP) between 38 institutes (veterinary, medical, environment and food) in 19 countries to strengthen action on foodborne zoonoses, antibiotic resistance and emerging threats. This will strengthen inter-sector collaboration to improve disease prevention and control.
Animal and Zoonotic Viral Diseases Portfolio
The Animal and Zoonotic Viral Diseases Portfolio (AZVDP) carries out surveillance, diagnostics, research and development activities on an extensive range of endemic and exotic viral diseases of livestock.  A proportion of these viruses are also zoonotic so One Health is key to our work. UK human cases of these viruses include; Rabies acquired abroad (exotic, carnivore origin), other zoonoses acquired within the UK (endemic) include 'bat rabies' (Lyssaviruses), Hantaviruses of rodent origin, animal influenza A viruses of swine origin, and some Hepatitis E viruses (pig origin).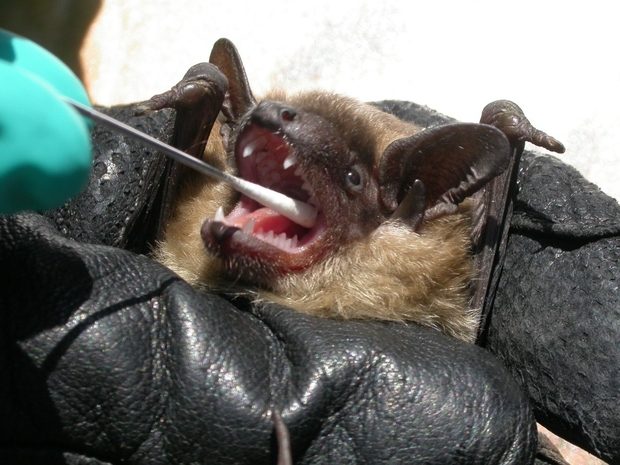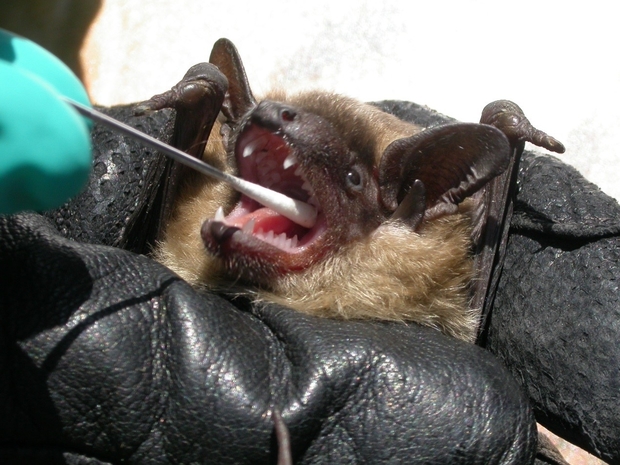 We also carry out research on a number of arboviruses that are a One Health risk for example: West Nile virus (bird origin also affecting horses), Equine Encephalomyelitis viruses and Rift Valley Fever virus. These arboviruses can be transmitted to animals and humans by insect vectors and with climate change there is an increased risk that these threats may occur in the UK.
A breadth of expertise allows us to respond to new and emerging threats demonstrated with 'swine 'flu in 2009 when its pandemic potential was not known, the incursion of Schmallenberg virus in 2011 (unknown human susceptibility on emergence) and the appearance of novel avian influenza virus strains.
Veterinary scanning surveillance
Veterinary scanning surveillance enables early detection and investigation of new or re-emerging animal diseases, and helps us to understand disease patterns and trends in livestock and wildlife in England and Wales.
Scanning surveillance is delivered through a dedicated team of vets, scientists and partner providers who carry out diagnostic tests and post mortem examinations on carcasses and other samples at our network of Veterinary Investigation Centres. The Surveillance data on cattle, sheep, pigs and poultry in England and Wales is now available to view on interactive dashboards which allows livestock keepers and their vets to make informed decisions about treating and preventing disease in their herds and flocks, leading to healthier livestock.
Our scanning surveillance activities also allow detection of diseases affecting wildlife, which are important in a One Health context because of the potential adverse impact they can have on biodiversity.
Wildlife Portfolio
The Wildlife Portfolio provides evidence-based advice and operational services on preventing, predicting and mitigating wildlife disease. Wildlife epidemiology is an important area of study.
The UK's Echinococcus multilocularis free statutory status hinges on the wildlife team's surveillance programme providing evidence for the absence of the parasitic tapeworm. E. multilocularis is present in Europe and can cause the potentially fatal alveolar echinococcosis in humans. The life cycle of the worm is very complex and includes the red fox and several species of voles, with domestic dogs and humans being "accidental" hosts.
Transmissible Spongiform Encephalopathies (TSEs) Portfolio
This portfolio focusses on diseases caused by prion proteins, such as scrapie in goats and sheep and chronic wasting disease in deer, although this is currently absent from the UK. The most well-known TSE is Bovine spongiform encephalopathy (BSE) which affects cattle and can also transmit to humans.
The current APHA TSE programme of research and surveillance was launched in 2001 with the aim of eradicating BSEs in cattle; eradicating TSEs in sheep and preventing TSE-infected animals or their by-products being released into the food chain or wider environment.
APHA's TSE Reference Laboratory also provides information and confirmatory testing for worldwide stakeholders, and gives confidence to trading partners of TSE disease status of the UK beef and lamb export industry.
Tuberculosis Portfolio
APHA carries out both research and testing for bovine TB (bTB) in cattle and other livestock, such as pigs and camelids. This plays a substantial role in reducing the spread of bTB and thus reducing the risk to cattle, wildlife and humans.
Plant and Bee Health Inspectorate
APHA plant and bee health inspectorate services play a critical role in mitigating against harmful organisms that could destroy our food sources, significantly impact our environment and prevent human diseases through the maintenance of healthy plants, food and bees.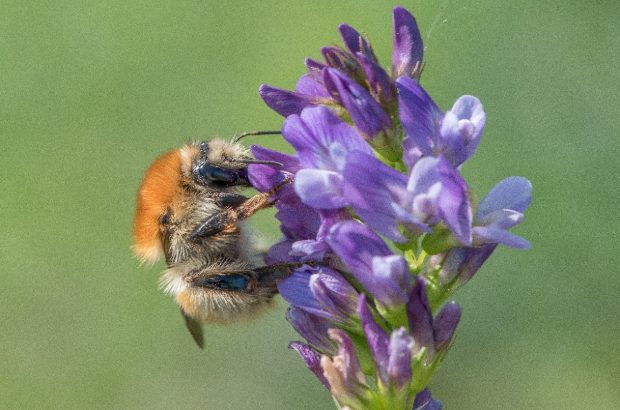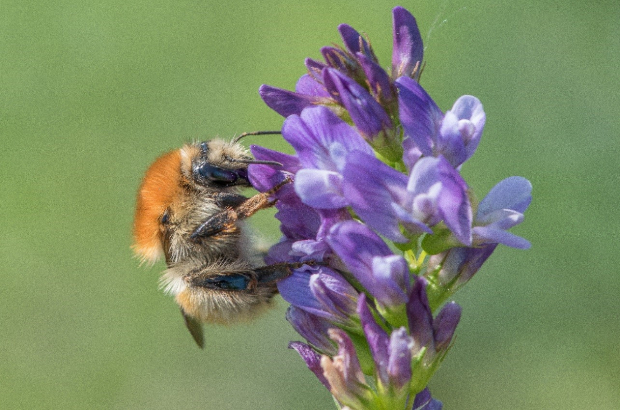 We work closely with Defra's Chief Plant Health Officer and policy colleagues in England, Scotland and Wales. Within APHA delivery comes from the Plant Health & Seeds Inspectorate (PHSI), Plant Varieties & Seeds (PVS) team, the Genetic Modification Inspectorate (GMI), Horticultural Marketing Inspectorate (HMI) and the National Bee Unit (NBU). They collectively help protect and ensure quality for the country's plants and bees by providing world class inspection, quarantine and certification services along with surveillance, testing, training and outreach awareness campaigns for existing, new and emerging quarantine pests and diseases.
International Development Portfolio
A new portfolio on International Development was established in September 2017 to enhance our worldwide engagement with a strategic goal of broadening the agency's funding base and utilising our knowledge and expertise assets within the agency to their full potential.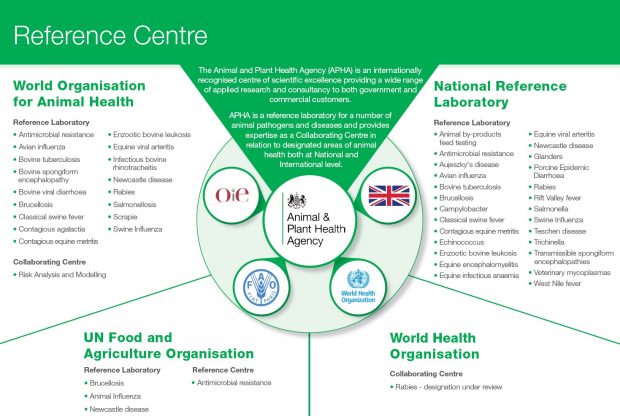 APHA's reference laboratories and collaborating centres are considered a key international asset and the International Development team have been engaging with international organisations including the OIE, FAO, WHO, and the Commonwealth to obtain international recognition and designation of UK international reference centres (IRCs).
Lord Gardiner, Defra Biosecurity Minister, and Dr Christine Middlemiss, UK Chief Veterinary Officer, acknowledged the contribution that APHA's IRCs are making in tackling global animal and human disease threats. Click here to read our blog about the event held at the British Embassy in Paris for OIE Member Countries.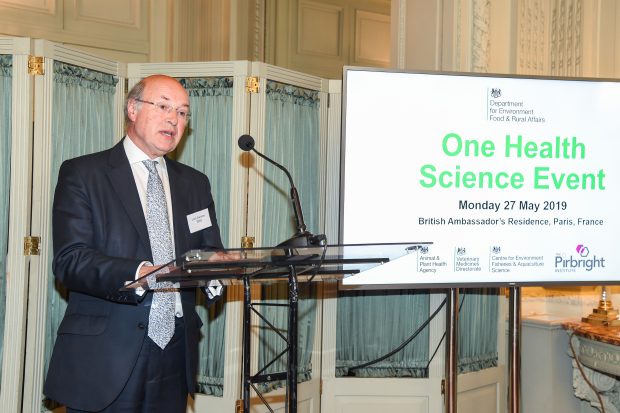 The establishment of a new IRC for Antimicrobial Resistance (AMR), as a joint undertaking between APHA, Veterinary Medicines Directorate and the Centre for Environment, Fisheries and Aquaculture Science (Cefas), has been a high-profile model of APHA's international outreach ambitions. The purpose of this reference centre is to support capacity development in Low and Middle Income Countries, and provides many new opportunities for increased engagement at international levels. The AMR Reference Centre has recently completed visits to Ghana and to Bangladesh providing laboratory-based training for bacterial isolation and identification and Antimicrobial Susceptibility Testing methods.
Going forward, there are more One Health initiatives being considered including the possibility of a One Health Commonwealth Network and a Global Health Security framework between the Department of Health, Department for International Development and Defra-APHA.
Forthcoming One Health blogs
This blog has given a summary of the range of One Health work that the APHA is doing and is the first in a series of more in depth blogs on this topic by each of our Lead Scientists.
Please subscribe to keep up to date with further One Health blogs.