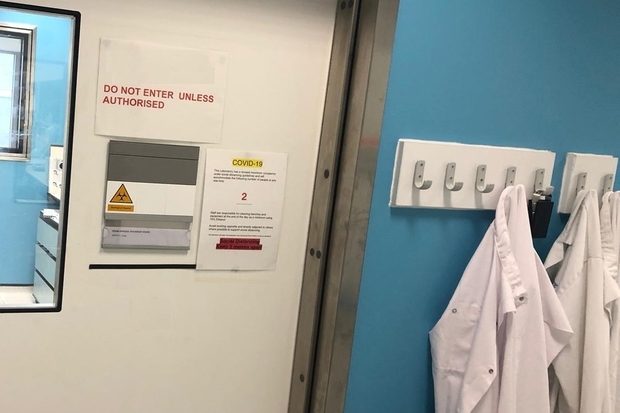 Ian Brown, Deputy Science Director and Lead for the COVID-19 Testing programme explains how APHA adapted to support the national response to testing human COVID-19 cases.
We have all become used to hearing in the news about COVID-19 infection numbers but have you ever wondered about the crucial scientists behind the scenes, testing samples and providing these all important results?
2020 brought many changes for staff at APHA, primarily when large teams of staff were seconded from their usual roles to work in the new COVID-19 team, making the best use of our highly skilled scientists in the national response. We are accustomed to dealing with disease outbreaks in animals, but with our unique and specialist staff and laboratory facilities, we are always potentially available to step into support Public Health England (PHE) and the National Health Service (NHS) with human disease emergencies.
In June we started working on the first phase of a new COVID-19 testing pilot called 'Safe and Certain'. This initial six week study with the University of Southampton assessed a Loop-mediated isothermal amplification (LAMP) technique to test saliva samples. Following the end of this project, we moved onto conducting COVID-19 testing for the NHS using another technique, called Polymerase Chain Reaction (PCR) whilst also applying the LAMP-saliva test to a community based programme of screening.
I have been very proud of the dedication of our staff to respond to the demands of developing, setting up and running these large scale testing programmes.
But what is an average day like for these scientists and other staff involved in these testing programmes?
Dominic Ritchie, Jay Patel, Rowena Hill and Karen Hinchliffe explain what life is like working in the COVID-19 testing team at APHA Weybridge…..
The process begins in Sample Reception, the hub where all new samples for testing are received. It is the responsibility of staff working here to coordinate, safely and efficiently, the receipt and registration of different types of samples: saliva samples for the Safe and Certain programme and swabs from the NHS trusts for PCR testing. First we hear from Karen Hinchliffe, Laboratory Manager and Safety Advisor.
"It was the first week of lockdown when I was asked to be part of the APHA COVID-19 testing team. With all the uncertainties of lockdown I was grateful for something new to get my teeth into and take my mind off the inevitable home schooling!

My responsibility was for sample receipt and registration onto our Laboratory Information Management System (LIMs), having had experience of large scale testing during the Foot and Mouth outbreak I felt confident this was something I could manage.

One of my early tasks was to calculate the number of staff we would need to open the COVID-19 packages, check them and register them. It turns out it actually takes 4 people, 4 hours to open, check and register 2000 samples.

My attention then turned to our LIMs system which needed acceptance testing before going live. A lot of work was put in to adapt the system to enable it to accept different samples and link it with both the University of Southampton and the NHS system. This enabled fast and accurate reporting of the results. This is a task that I enjoy and, as it is largely trying to 'break' an IT system, which I am quite good at! Luckily we have a wonderful LIMs team who had built a system that even I could not break and after endless paperwork and forms it was ready to go live."
Consumables were ordered, benches were cleared and suitable racking installed. We were ready for COVID-19 testing so that when the elusive samples started arriving and due to all the meticulous preparations, everything ran smoothly.
Sample reception staff carefully check each sample bag for leakage before opening, they then ensure the sample barcode on the bag matches the sample tube and place the pot in a rack ready for registering into LIMs. Samples arrive with this unique barcode to maintain anonymity, minimising the amount of information linked to the patients to comply with the personal data protection regulations.
Once a full rack is registered, a worksheet is created for the testing team, which has a unique number and identifies the position of each sample in the rack. The racks of samples, along with the worksheets, are then transported to the testing laboratory and the Sample Reception team's job is complete……until the next delivery that is!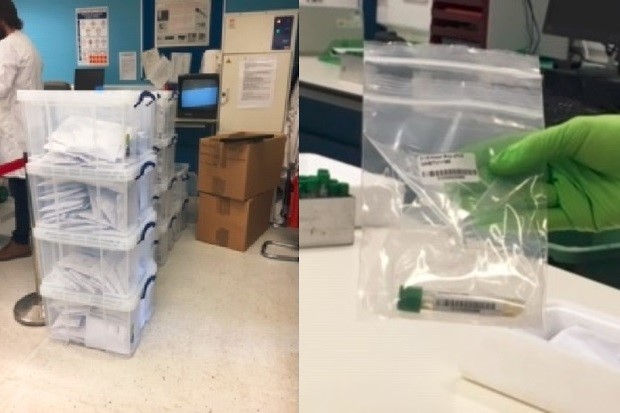 So, we have received the samples, registered them and they are now on their way to the testing teams. Dominic Ritchie, from TB Diagnostics joins us at this stage of the process and he explains what happens next.
"A typical day starts off with a quick debrief on the previous day and any information that we need for the day ahead. This, along with a slice of cake to start the day on a high…

The morning delivery of swab and saliva samples (thankfully triaged by our sample reception team prior to arrival in the lab) are usually waiting for us. It is always a nerve-racking moment in the day to see what is awaiting processing.

Once we have established the number of samples requiring testing, we assign staff who proceed to swiftly work their way through testing the racks of samples. We then break, wait for the afternoon's delivery of samples and repeat the process again.

The testing process involves handling the samples (universal tubes containing saliva for LAMP testing or swab samples for PCR testing) in a biological safety cabinet (BSC). A portion of the submitted sample is removed for testing by pipetting. Samples are added to 96 well reaction plates and mixed with lysis buffer which inactivates any virus in the sample and allows them to be safely handled outside the BSC. The samples are then subjected to the next part of the test: for swabs, RNA purification on extraction robots prior to PCR amplification or, for LAMP, addition of the lysed inactivated samples directly to amplification reactions.

As a team, we cannot be more thankful for the support of our APHA colleagues from a range of different departments and groups across the Weybridge site, who are taking time away from their usual work to support our testing requirements. We have had range of people helping throughout this project and it is always interesting to see who is going to walk through the door each morning to give us a hand. The key thing is that everyone brings with them a willingness to do whatever is asked of them, showcasing the devotion of APHA staff to be called upon in response to a disease outbreak of an animal or human kind."
Finally, despite not being the 'done thing' to talk about the positives that have come from a pandemic, especially whilst we are still in the midst of it, but there have been a few for the staff at APHA:
Helping the national effort to combat the virus through testing the local population and developing innovative testing procedures to enable rapid identification of COVID-19.
Allowing people to gain experience in areas which they would not have the opportunity to do so in their normal work.
Forming relationships with people that you have seen around site for years but never interacted with.
Giving people who are normally in an office behind a computer screen a chance to work in a laboratory environment again.
Some further comments …
"I have really enjoyed my time at APHA, it has allowed me to contribute in the fight against the global pandemic and I have also been able to participate in some very interesting projects surrounding different testing methods."

Amie Dredge, a short-term appointment employed for COVID-19 testing
"Being a part of the APHA COVID-19 testing scheme has been really rewarding. I feel incredibly fortunate to have been able to contribute to the efforts to control the pandemic so soon after finishing my degree."

Paul Shefferd, a Southampton University post graduate
"It is amazing what a team can achieve when we are under pressure. It has been an enlightening experience!"

Jenny Cooling, Sample Reception Manager, APHA Weybridge