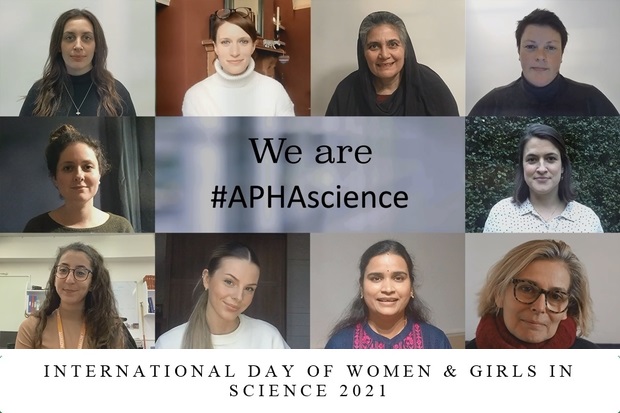 Today marks the sixth International Day of Women and Girls in Science. In this blog and accompanying video we hear first-hand from some of our female scientists why APHA is a great place to work and what opportunities working at APHA has offered them. We hope this inspires girls and young women interested in scientific subjects and careers to follow their aspirations.
We first hear from Yvonne Spencer, Director of APHA Science Transformation for the National Science Capability for Animal Health programme and Director of TSE, Pathology & Animal Sciences, as she reflects on her career at APHA.
"I'm proud to say that over 61% of our workforce in the APHA Science Directorate are women, with good proportions reflected at all grades and around 40% in senior leadership positions. Reflecting over my 37 years career as a woman in science, and as someone who has not followed a typical academic route into the specialist area of veterinary pathology, I was struck that much has changed for the better. I have worked hard to overcome various 'sector barriers' along the way but now I'm pleased that there are improved opportunities and recognition in education, career pathways and inclusivity for women. I was the first person in my family to gain a degree, and I have benefitted from wise role models and mentors (both women and men) who encouraged me to think beyond my own horizons. Through APHA's (and its predecessors) support, and the influence of some talented and inspirational colleagues over the years, I developed a range of skills: technical, academic, specialist research, analytical and problem solving, team-working and leadership which have meant a hugely rewarding balance of personal, family and career development.

My first teacher stated that I would be a scientist, as I was always asking why and how things worked! My Mum had sparked my interest in laboratories as she talked about her job as a laboratory technician before I was born, wearing a white coat and using special equipment. Biology and chemistry were my favourite subjects, but I hated physics because, as one of only three girls in the entire class, life was mostly about avoiding persecution! I was most indignant about that as I had needed special permission to drop home economics and typing as 'O level' options which were expected of girls at my school.

I joined APHA after my science A-levels, as an Assistant Scientific Officer (ASO) in Pathology. I started four years of day release BTEC applied biology study and rotated around the department to learn core laboratory techniques (we would now call this an apprenticeship). I later returned to a further 4 years of part time academic study and gained a First Class B.Sc. (Hons) in Immunology by the grand age of 30. Along the way, I worked very closely with veterinary pathologists researching pathogenesis of Bovine spongiform encephalopathy (BSE) and other diseases. I co-authored papers, presented at conferences and travelled internationally to apply my specialist biocontainment and immunohistochemistry expertise. I was also promoted to workgroup leader and made the difficult choice to start a family rather than start a part time Ph.D. Networking with others in the wider Civil Service on a development program for scientists really helped me see beyond my then horizon, and the transferable skills that science had enabled – without a PhD.

APHA Science Director, Dr Kath Webster (then Head of Department) demonstrated that motherhood, flexible working and continued career progression were achievable so heading my department became my next goal. In Pathology, that position had always been held by a vet so when I became the first woman Head of Pathology I really felt like a small pioneer. This was especially gratifying as I was not a vet, did not have a PhD and had started as a laboratory technician!

My final reflection is on the importance of communication, accessibility and dispersing science stereotypes. I am motivated by enabling the development and success of our teams, inclusivity and communicating the 'so what' factor and impact of our important science and specialist facilities in APHA. My current role, as Director of Science Transformation for the National Science Capability for Animal Health programme, a multi-million pound project to develop the science facilities and infrastructure at APHA, is an exciting opportunity to help enable future generations of scientists to work in world class facilities."

Yvonne Spencer, Director of APHA Science Transformation for the National Science Capability for Animal Health programme and Director of TSE, Pathology & Animal Sciences
APHA demonstrates great diversity in the scientific and support roles it offers. Roles and responsibilities range from support roles through to leadership positions from  a wide spectrum of different professions (e.g. science, veterinary, project planning, communication and finance) and scientific disciplines from bacteriology, virology and parasitology to pathology, diagnostics, epidemiology and data modelling to name a few. We are not all vets and laboratory scientists in white coats - we depend on staff who work in range of jobs as science is not just done in the laboratory. As an employer, staff also benefit from schemes such as flexible working and mentorship as well as real investment in professional development and progression.
Let us hear from a small selection of our female scientists now as they tell us about their experiences of working in science at APHA. Before watching the video, you may be interested in reading about one of those featured, Samira Ahmad, in our recent blog, 'APHA science staff recognised in the New Year Honours list'. In this blog she talks about being awarded a BEM (Medallist of the Order of the British Empire) for her services to animal health and welfare during her career at APHA. Please note that due to the national lockdown restrictions many of our scientists recorded their videos whilst working from home, not in their usual work setting, because APHA is limited to statutory scientific work at this time.
"APHA undertakes important work - safeguarding animal and plant health for the benefit of people, the environment and the economy.

It is really inspiring to hear from a selection of the women scientists who make this work possible.

APHA is a great place to work; we are on a journey and want to continue improving opportunities for all colleagues to develop to their full potential."

Dr Kath Webster, APHA Science Director
"I am delighted to support International Day of Women and Girls in Science and all actions to break down barriers for girls and women forging careers in science.

As an engineering graduate I recognise the huge progress that has been made, but there is more to do. The women highlighted in this video are incredibly inspiring, both because of the fascinating work they do and how they go about it.

APHA and the whole Defra group offer a great range of jobs and opportunities for women in science. The scientific expertise and evidence provided by APHA is particularly important for Defra and wider government in controlling animal and plant disease outbreaks in the UK."

Tamara Finkelstein, Defra group Permanent Secretary
Other blogs you may be interested in reading:
Working at APHA
All vacancies at our sites across the United Kingdom are listed on the Civil Service Jobs website under Animal and Plant Health Agency. Some are listed under Department for Food, Environment and Rural Affairs.