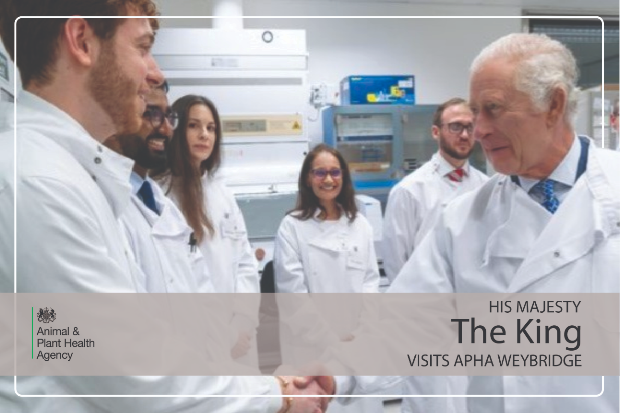 We were delighted to welcome His Majesty King Charles III to APHA Weybridge on 9 March. His Majesty The King met with scientists and staff to learn more about their contribution to protecting animal, plant and bee health, including their work associated with the largest-ever outbreak of avian influenza in the UK.
APHA's world-leading scientists and staff have played a vital role in supporting avian influenza diagnostics and disease control. Their work to tackle the outbreak helps protect animal and public health but also supports our international trading relationships.
His Majesty The King undertook a full tour of Weybridge joined by Geraint Richards from the Duchy of Cornwall estate, Edward Parsons from the Sandringham estate, and Paul Sedgewick from the Crown estate.
Also in attendance were Lord Benyon, Minister for Biosecurity, Marine and Rural Affairs, David Holdsworth, our Chief Executive and Professor Ian Brown, our Director of Scientific Services.
The tour involved briefings on some of most difficult animal health diseases the world faces including avian influenza and bovine TB as well as plant health challenges including invasive non-native species.
His Majesty The King also visited dedicated specialist research laboratories to see genome mapping and a mosquito laboratory where he was shown APHA's vector-borne disease (VBD) programme.
His Majesty The King spent a generous amount of time meeting and speaking with a wide range of staff from across the network of GB sites, including those working on the import of pets from Ukraine, before personally addressing all in attendance and via a live video link.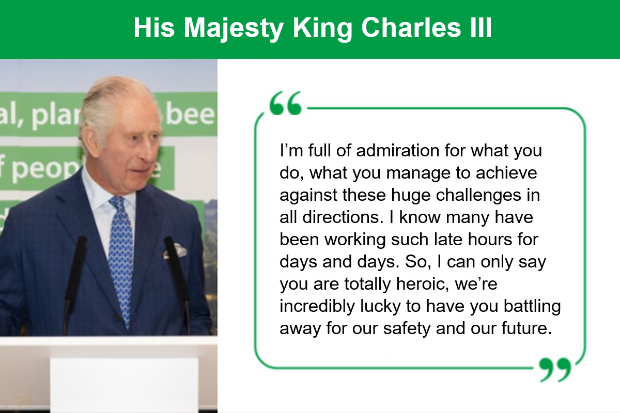 Staff have shared their reflections on the historic visit:






We issued a press release to mark the announcement – read more here.
Subscribe to our blog

Throughout the year, we publish blogs which highlight the breadth of scientific work we are involved in as well as sharing our latest news and events we have attended.

Subscribing to our blog takes seconds and you will receive instant email alerts as soon as new blogs are published so why not subscribe today!