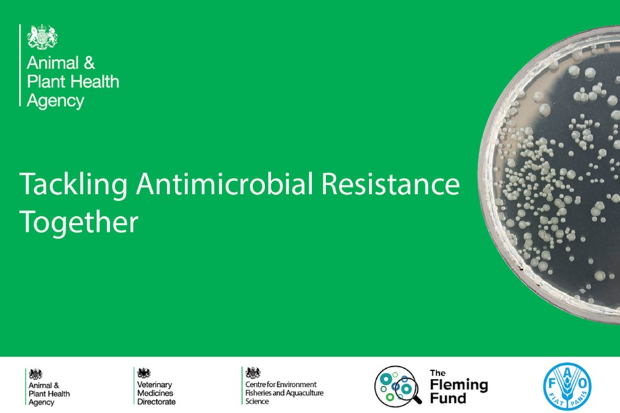 Antimicrobial resistance (AMR) is one of the top ten global public health threats. AMR occurs when bacteria, and other microorganisms, develop a resistance to antimicrobial drugs, such as antibiotics, making them less effective in treating infections. This can lead to more severe infections and, in some cases, death.
The misuse of antibiotics is one of the main causes of antimicrobial resistance, making it more difficult to treat bacterial infections in the future.
The importance of collaboration: a recipe for success
The Animal and Plant Health Agency (APHA) has a long history of working on antimicrobial resistance in the animal health sector and has been partnering with the Centre for Environment, Fisheries and Aquaculture Science (Cefas) and the Veterinary Medicines Directorate (VMD) for many years, drawing on their respective AMR knowledge in the areas of aquatic environment surveillance and veterinary medicine.
The three government organisations united to form a Reference Centre for AMR in November 2018. Together, the agencies harness their expertise to help partners located in low- and middle-income countries (LMICs) to develop their approach to investigating AMR and antimicrobial use.
This expertise was formally recognised by the Food and Agriculture Organization of the United Nations (FAO) in April 2019 when the reference centre became the first to be awarded the status of 'FAO Reference Centre for AMR'. Last month, the reference centre's expert approach to tackling AMR received further FAO recognition through the renewal of its FAO status for another four-year term, running until 29 April 2027.
The reference centre has progressed from initial concept in 2018 and designation by FAO, through the development of networks and programmes, to its maturation into a high-profile expert team, strongly positioned to support One Health efforts to tackle the issues of AMR.
We engage widely with partners and have been able to deliver significant programmes in several countries, see picture below. We have sought to develop deep relationships with many of our partners, helping to ensure our work has lasting impact.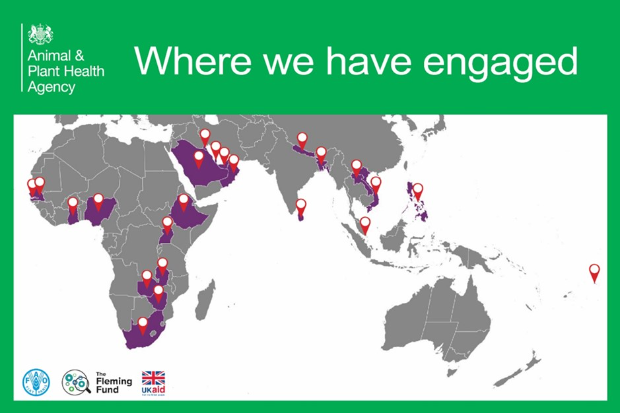 Our work has included working with partners in their home laboratories to develop their AMR capacity, hosting visitors at our UK facilities, supporting the development of a global community of AMR leaders and experts, training scientists, and helping to build One Health partnerships for action on AMR. You may also be interested in reading this blog by Cefas on antimicrobial resistance in seafood.
We work closely with the FAO to ensure our activities align with their AMR Action Plan and the other nine Reference Centres for Antimicrobial Resistance.
The power of connections
To strengthen this network, we hosted the inaugural Congress of FAO Reference Centres for AMR at APHA's site in Weybridge, England in March 2023. Delegates from Denmark, France, Germany, Mexico, Thailand, USA, and the UK attended in person, together with colleagues from FAO headquarters and regions. Additional FAO staff joined online, along with representatives from other recently designated AMR Reference Centres.
Over the two days we reinforced the network of FAO AMR Reference Centres, identifying new areas for working together to support FAO initiatives such as InFARM (a global platform for surveillance of AMR in food and agriculture) and RENOFARM (an initiative to reduce the need for antimicrobials in agrifood systems), and developed action plans for tackling the threat of AMR.
"I feel that the physical congress was a great success and useful to plan the upcoming year's delivery."

Dr Keith Sumption, Chief Veterinary Officer, FAO
We also held an Expert Dialogue event with the conference delegates from the FAO and its AMR Reference Centre with additional participants from UK government, academia, and industry, who contributed to presentations and discussions on emerging AMR issues in the agrifood sector.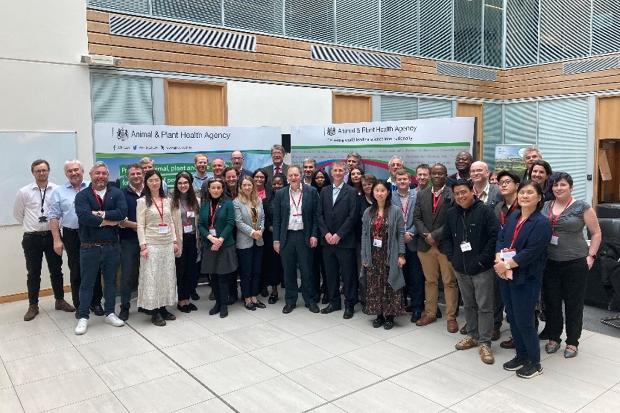 Investing in innovation
We receive funding from the UK government through Defra, Foreign, Commonwealth & Development Office (FCDO), and the Department of Health and Social Care's (DHSC) Fleming Fund. The Fleming Fund is a UK Aid programme supporting up to 25 countries across Africa and Asia to tackle AMR.
In March 2022, the Fleming Fund awarded us a grant over three years to support their ambitions to generate, share, and use data to improve antimicrobial use and encourage investment in AMR in low- and middle-income countries.
Looking to the future, the renewal of our designation and the grants from Fleming Fund and others will help us deliver an exciting range of projects with our partners.