In this blog Lucia Biffar, Scientific Project Manager for the Animal and Plant Health Agency, talks about her experiences volunteering with a group of APHA scientists to work at the one of the national Coronavirus testing centres.
APHA, like the rest of the country and world, has been adapting to the changes brought about by the Coronavirus pandemic. As an agency, we are skilled in dealing with animal and plant disease outbreaks, as well as supporting Public Health England with human outbreaks, but COVID-19 has created additional challenges. Many of our staff are working from home due to the social distancing guidance issued by the Government but we are proud to say that the Science Directorate has continued to function and carry out our statutory disease testing, whilst also adjusting our research and laboratory testing priorities to focus work to support the national and international efforts to deal with the COVID-19 outbreak.
I am part of a group of 25 APHA staff on secondment to the newly established flagship COVID-19 mega lab based at the UK Biocentre, in Milton Keynes. After ten years in research I only recently swapped the lab bench for an administrative post as a scientific project manager in the Science Strategy and Planning group at APHA (Weybridge), not expecting to get close to a pipette any time soon. However, a year later with the COVID-19 pandemic ongoing, I find myself back in the laboratory, supporting the UK's massive effort in increasing COVID-19 testing capacity.
Adapting back to a scientific role
The Monday before Easter I arrived at the UK Biocentre with some former colleagues from the Department of Bacteriology, not really knowing what lay ahead of us. We were greeted by some familiar faces from other APHA departments and a lot of other volunteers, consisting of staff from the Biocentre, PhD students, post-docs and a range of academics (from early career lecturers to professors), all keen to use their skills in ramping-up testing numbers. After two weeks of home working and no social contacts, except for my partner and the assistant at the supermarket till, meeting all these other volunteers was a welcome change!
The scientific process
After an initial day of health, safety and quality inductions, we were divided into two teams, with some of us returning immediately after Easter. I joined Team 2 and after a day off, which I spent in solitude in my room at the Holiday Inn (my new home for the next two months), the work began. Equipped with all necessary personal protective equipment (PPE), my colleagues and I entered the laboratory and were shown how to process human swab samples, of which initially 30% tested positive for SARS-CoV-2 virus. The process is fairly simple consisting of pipetting liquid from the sample tube containing the swab into a 96 well plate.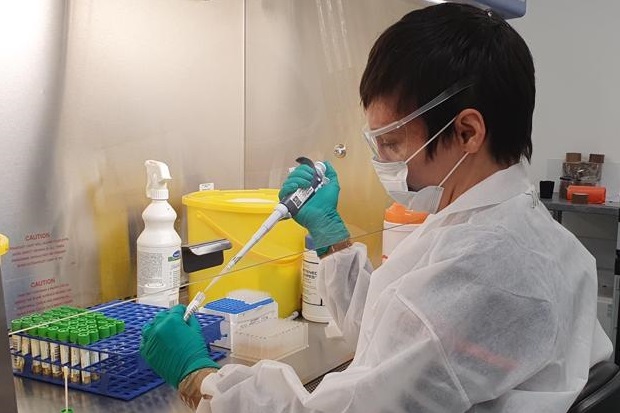 If a patient is infected with SARS-CoV-2 (the technical name for the COVID-19 virus) the liquid should contain the genetic material of the virus, or viral ribonucleic acid (RNA), which is extracted in a subsequent step. Finally, a common molecular biology technique called polymerase chain reaction (PCR) is carried out to amplify the amount of viral nucleic acids allowing us to detect its presence in the sample. I have been regularly using these techniques over the last ten years but never in a diagnostic setting and under such special circumstances. Fellow APHA volunteer, Rob Dewar commented: "Filling the plate is not an easy task and takes a lot of concentration. Each sample is scanned and provided a position on the plate. You then must transfer the sample into that position without getting any in any other well. This takes a great deal of care and precision to avoid contamination of viral RNA between samples." Knowing that each sample corresponds to an individual nervously waiting for the results adds a different type of pressure. Luckily we are working as part of a team and every crucial step is witnessed by a team member.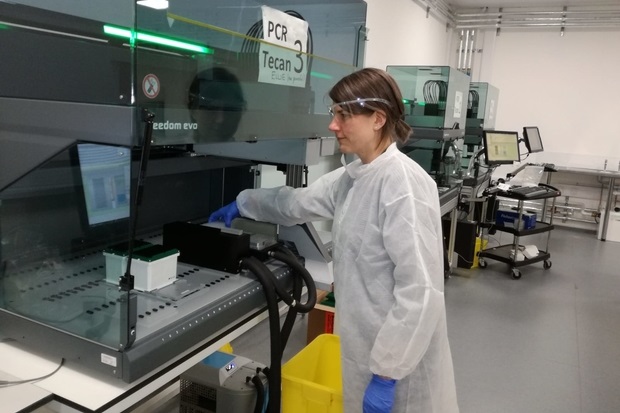 The first week at the centre was full of surprises. Not only did we learn the techniques necessary to process swab samples but we also enjoyed a visit from the Health Minister, Matt Hancock, who joined us in the laboratory to get an insight into the process involved in testing COVID samples. The following day ITV news came to film the new laboratories and some of us were surprised to recognise ourselves on the news that evening!
Robots speed up the operation
After two weeks of relatively low sample numbers, which allowed us to familiarise ourselves with the new work environment and techniques involved, numbers slowly increased and we moved to a newly arranged laboratory, equipped with large numbers of microbiological safety cabinets, RNA extraction robots and numerous liquid handling robots. While we had been diligently processing samples manually in the microbiological safety cabinets, the new laboratory was being organised and engineers had been busy setting up several automatic liquid handling robots, allowing testing capacity to increase markedly. Whilst it takes a well-trained human an hour to process around 100 samples, a robot can process four times that number in the same time.
 Working through the night to ramp up the testing
At the beginning of week three, I found myself starting work at 8pm instead of the usual 8am. Our team was divided into a night and day shifts and I decided to join the first round of night shifts. Over the next four weeks I worked through the night before switching back to the day shift. The Government scheme of opening up testing to a wider range of key workers and their family members proved successful, manifesting itself in a sudden increase in sample numbers, from thousands to tens of thousands. We were busy processing samples and training around 15 new volunteers through the first night shift. A week later and processing had almost doubled again over a 24 hour period.
Bringing scientific expertise together
The last four weeks have been incredibly interesting and I feel fortunate to have utilised my skills to directly contribute to the national effort in tackling the pandemic. When my colleagues from APHA and I arrived on site four weeks ago, the staff at the Biocentre and a small team of academics from the University of Oxford and a few other volunteers from universities around the country had only been at work for two weeks and most processes were still being developed and done manually. Four weeks later, all possible processes involved in testing of samples have been automated and several further cohorts of volunteers have joined allowing a significant increase in samples that can be tested at the Biocentre (from thousands a day to tens of thousands).
"Increasing the volume of samples by such an extent, in such a short time-frame, has been an incredible achievement. Even under the immense pressure of the task, the managers of the lab still leave space for feedback and appreciate the vast expertise that comes with their intake of volunteers. The lab is now in its rhythm, and is fully prepared for the months ahead. It is now feasible and practical to trace the virus nationally and get people back to work."

Rob Dewar, APHA volunteer at UK Biocentre, Milton Keynes.