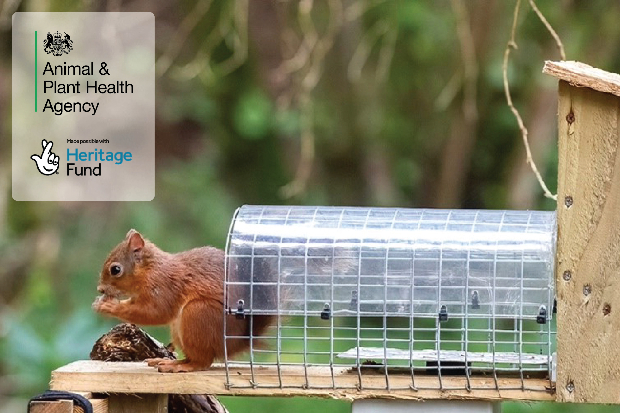 APHA, together with project partners, has been granted funding from The National Lottery Heritage Fund for a 12-month development phase to produce a project plan and tender documents for the 5-year Red Squirrel Recovery Network project (RSRN).
This partnership project aims to build on ongoing efforts to protect and conserve red squirrels in northern England and southern Scotland. It is led by Northumberland Wildlife Trust and including Cumbria Wildlife Trust, The Lancashire, Manchester and North Merseyside Wildlife Trust, Knowsley Safari, and Southern Uplands Partnership (SUP) in Scotland.
The five-year delivery phase is due to begin in 2025 (subject to funding).
Squirrel populations in the UK
The red squirrel is the UK's only native squirrel species and populations have been declining since the introduction of the grey squirrel from North America during the 19th century. You might like to read more in one of our previous blogs: Plight of the Red Squirrel.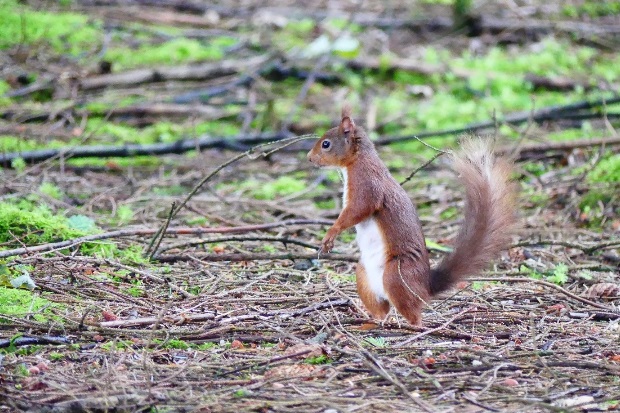 The UK red squirrel population has fallen from around 3.5 million to just a few hundred thousand, compared to the estimated population of 2.7 million grey squirrels. Competition and disease transmission (notably squirrel pox, which does not affect grey squirrels but is fatal to red squirrels) are considered to be the main drivers behind the decline of red squirrels. The red squirrel is sadly now classified as endangered in England and Wales.
The Red Squirrel Recovery Network
The RSRN project will work with over 50 volunteer groups in Northern England and Southern Scotland to collect baseline data on squirrel distribution, grey squirrel management activities and volunteer demographics to establish current volunteer activity and identify opportunities for new action. Conservation, communication and public engagement plans will be developed to strengthen and expand volunteer networks and raise awareness of red squirrel conservation across different communities.
Where does APHA fit in?
One key aim of the RSRN project is to build on emerging non-lethal methods of controlling grey squirrel populations.
APHA's Wildlife Team in York are currently developing an oral contraceptive bait to manage grey squirrels in the UK. Delivering oral contraceptives at a regional scale will rely on coordinated efforts by local practitioners and volunteer groups. By the time the contraceptive is registered for general use, we want to ensure as many relevant groups as possible are equipped with the knowledge and resources required to deliver it in the most cost-effective way possible.
As part of the RSRN project, we plan to train volunteer groups in four regions in novel methods for contraceptive delivery, developed and tested by our team in various woodlands in Northern England and Wales. This will include estimating grey squirrel numbers using camera-traps and measuring bait delivery efficacy using a bait containing a bait marker and a purpose-designed squirrel-specific feeder.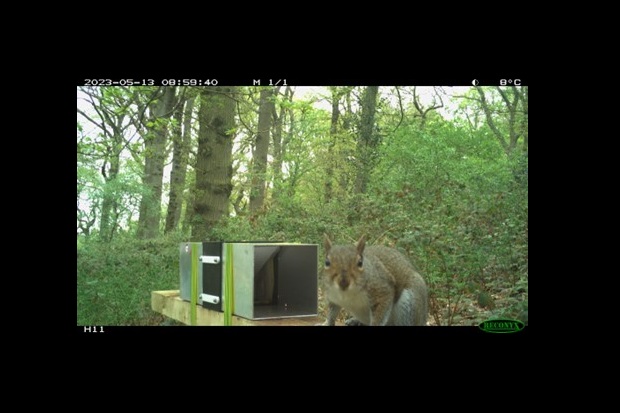 In two areas where both grey and red squirrels are present, we will train volunteers to monitor and gather data from species-specific feeders, to ensure they can exclude all red squirrels while still allowing access to bait by grey squirrels.
By training volunteer groups in these methods and through other engagement activities, we hope to increase public awareness and support for fertility control as a grey squirrel management method, while the data gathered will help us to optimise contraceptive delivery methods at a larger scale.
By being involved in this landscape-level, collaborative approach with Northumberland Wildlife Trust and other project partners, we aim to protect our native red squirrel and give it the best chance of survival for the future.
For more information on the progress we are making developing a grey squirrel oral contraceptive see UK Squirrel Accord.
Further reading
We have previously published blogs on this topic which you may be interested in reading:

Follow @HeritageFundUK on X, Facebook and Instagram and use #NationalLotteryHeritageFund