Richard Smith, lead APHA analytical epidemiologist, talks about APHA's 3 year study of Salmonella in pigs.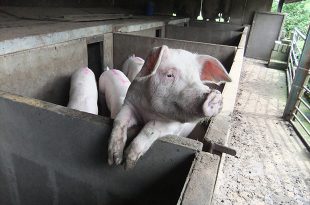 Salmonella is a bacterium infectious to both animals and people which continues to have an enormous impact on both human and veterinary public health as well as the economy in the more economically developed countries, despite extended control programmes.
Across Europe, around 100,000 salmonellosis cases in humans are reported each year, with an estimated annual cost of €3 billion.
In the UK alone, the infectious intestinal disease (IID) burden is estimated at 17 million cases annually, resulting in 11 million lost working days. See further information about this research on the Food Standards Agency website.
While other pathogens may cause IID in humans, salmonellosis resulted in the highest number of hospitalisations, with 90% of those cases having acquired the infection through the consumption of infected food items.
The study
As lead analytical epidemiologist here at APHA, I have conducted a 3 year study of Salmonella control in pigs. Pig farmers had reported a lack of evidence for effective Salmonella control on their farms.
The study trialled 3 interventions in outdoor reared pigs and sought to provide evidence for a range of effective controls for different farms and improve Salmonella knowledge in the pig industry.
Intervention 1

The first study focussed on land use for outdoor pigs. Typically these farms will move pigs to different sites every 2 to 3 years to allow recovery of the soil structure and grass sward but during this period Salmonella bacteria can build up in the ground and provide a potential reservoir of infection to the pigs.

This study investigated the levels of Salmonella in faecal and environment samples on 9 farms for a year after pigs were moved to a new site, to help inform whether more frequent movements may assist control.

Salmonella was substantially reduced immediately after the move and typically remained below the original level for a year after the move. Though there was some variation between the 9 farms in the study, the overall benefit of more frequent moves was clear.

Intervention 2

A second study showed that cleaning pig finisher buildings with a glutaraldehyde and quaternary ammonium compound disinfectant at Defra General Orders concentration was more effective at reducing Salmonella than the existing protocols used on 10 farms.

The disinfectant product had been shown to be effective against Salmonella in laboratory trials and this was a chance to test the product in the field.

Although Salmonella was still detected in the buildings cleaned by our methods after restocking with replacement pigs, it was generally at a lower level than the buildings cleaned by the farmer's methods.

Intervention 3

Vaccination of sows with a live attenuated Salmonella vaccine resulted in a significant reduction in Salmonella prevalence by the end of the study (14 months after the start of vaccination).

The study followed 8 vaccinated farms and 8 similar control farms to help evaluate and compare their Salmonella levels over time.

Salmonella infections do not typically cause illness in pigs but, on the studied farms, vaccination appeared to reduce the presence of clinical symptoms.

However, there was variation in the effect of vaccination between farms, likely caused by differences in levels of Salmonella, or other bacteria which challenge the immune system, pre-vaccination.

Furthermore, vaccination did not completely eliminate Salmonella suggesting that more than one intervention may be required on infected farms.
Challenges
One of the many challenges of Salmonella control is the bacteriums ability to persist, and sometimes to multiply, in the environment and that rodents can spread the bacteria after cleaning and disinfecting pig housing.
A cost-benefit analysis of previously investigated interventions (for example feeding fermented liquid feed, coarsely ground meal), and the three interventions trialled here, showed that none of these resulted in a neutral or positive economic impact on pig production, which may hamper their uptake by farmers.
Going forward
Current work is focusing on seeking more cost-effective ways of controlling Salmonella (such as applying vaccination at the farms at the top of a pig production chain), or on identifying additional benefits of interventions on other production-limiting conditions.
All of the 3 interventions proved to be useful in combatting Salmonella infections on pig farms but none of them were entirely successful on their own. Effective biosecurity on farms remains one of the simplest ways to reduce the risk of pathogen spread and this should form the basis of any Salmonella control plan and be used in tandem with these interventions.
The knowledge gained through this study was added to a new on-line tool produced by AHDB-Pork, aiming to engage farmers with biosecurity by testing their knowledge and providing advice in an interactive manner.
The mobile app shows short clips of outdoor and indoor farms and asks the user to click when they see a biosecurity risk, much like the driving theory hazard perception test.
The project team also ran a series of seminars for pig producers, their vets and other interested parties to inform them of the study results and raise awareness of effective Salmonella control.
This APHA work has shown that combining education and research can be an effective strategy for combatting a bacterium that causes significant ill heath in humans.
Download the AHDB-Pork mobile app from:
play.google.com or apple.com
Follow APHA on Twitter and don't forget to sign up to email alerts.