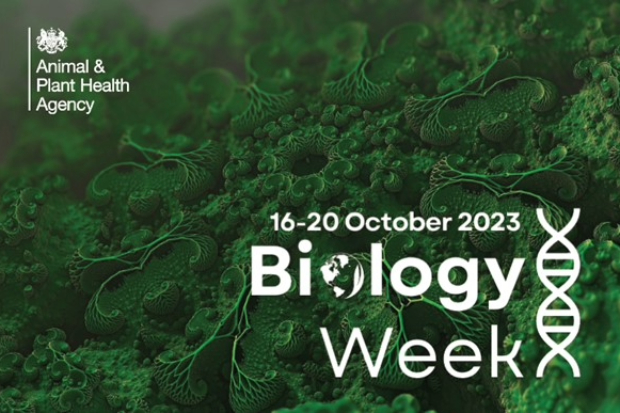 From the tiniest organisms that inhabit our planet to the intricate ecosystems that sustain life, biology is all around us!
Biology Week provides a great opportunity to promote the advances being made in the biosciences. This progress is relevant to everyone, especially as we live in a time of climate and disease changes, where biological research is vital. The week also highlights the diverse range of biological careers available.
For this year's Biology Week, we are shining a spotlight on the work of some of our brilliant biologists at APHA, who carry out work in a wide range of scientific areas.
"I work for the Surveillance and Laboratory Services Department, performing diagnostic testing for disease in livestock and wildlife. As part of this, I culture and identify various pathogens, including bacteria and fungi. My role involves diagnostics as well as antimicrobial resistance (AMR) testing on certain bacteria such as Escherichia Coli, Salmonella & Staphylococci.

The best part of my job is dealing with the unique or unusual samples, such as the suspect White Nose Syndrome (WNS) in a recent bat sample. The causative organism of WNS, Pseudogymnoascus destructans is a slow growing, psychrophilic fungus that has devastated native bat populations in areas of North America – and so would be of special concern if a positive case was confirmed in this country, but thankfully the result came back negative.

I love my job because of the variety in the samples we receive, the techniques we use and results we get. It is a fantastic environment in which you are constantly learning and developing skills. There is also satisfaction in getting a result and knowing you have helped in the process of a vet or farmer treating their animals and improving or saving animals' lives."

Chris Downham, Lab Services, APHA
"I manage research projects that help us understand how the avian influenza (bird flu) virus works. If we can understand the virus better, we can make more informed decisions during outbreaks, to help minimise the impact on farming.

My current work focuses on how viruses can evolve to become more dangerous to poultry and cause more severe disease in birds. I am also interested in mammalian adaptation and assessing what drives pathogen evolution. As well as this, I am involved in outbreak response and organising multi-team studies.

The best part of my job is working in the lab. I really enjoy being hands-on with the science. Also, at APHA we have the facilities to work safely with viruses in high containment labs. These facilities are quite rare globally and give me the opportunity to undertake research that can be unique, especially in the assessment of naturally occurring viruses.

I love my job because it is dynamic – it keeps me on my toes and stops me getting bored."

Lizzie Billington, Virology, APHA
"I provide histopathology (using a microscope to look for signs of disease in tissues) on clinical samples from mammalian livestock and wildlife. As part of this, I look out for unusual diseases and disease presentations which may require further investigation. Working with specialists from across the agency, our results will then be used to create disease alerts for potential outbreaks/risks for both government and industry.

The best part of my job is being able to reach a definite diagnosis, providing farmers and private vets with an answer to their problems and thereby improving the welfare of their livestock, and reducing the risk of further deaths on that farm and possibly on other farms.

I love my job and enjoy using microscopy and histopathology to understand diseases in more depth. However, above the scientific aspects of my job, what really makes me love what I do is the good team environment: we support and challenge each other to reach the best result."

Ana Gomez Vitores, Pathology, APHA
"My work focuses on a variety of livestock diseases in the UK and abroad. I use my statistical knowledge to develop models that inform us how vaccinations could impact the spread of a disease to the surrounding wildlife, and how herd or group disease prevalence would change over time depending on the delivery of a vaccine. I also co-run a statistical advice service for scientists across APHA to aid with setting up their experiments or analysing their results.

The best part of my job is being able to work on a variety of projects so that my week does not become repetitive. I also enjoy working with fellow scientists to figure out the best solution for the problem in hand.

It is great knowing that the work I am doing is having a positive impact on animal health. For example, as part of the bird flu outbreak response, I carry out analysis to work out how effective different laboratories from around the world are at detecting the virus in their samples. This insight can then be used by the laboratories to help them improve their methodologies."

Mayur Bakrania, Senior Statistician, APHA
"I am responsible for protecting plant health across the country, including trade, agriculture and the environment. I look for plant pests and diseases that are non-native and prevent them harming the UK's ecosystems.

I'm mainly out-and-about: this means I could be in a garden centre, field, orchard, moorland or anywhere you might find plants. It also means I meet new people every single day and see their enthusiasm for horticulture and the environment.

I love my job because it is exciting, important work that means I'm constantly using my skills and learning new things. I can use my eye for detail to search for small signs that a pest or disease is present, or even find a live pest that I can send to our laboratory scientists for more investigation. It is incredible what you can find when you look at plants closely!"

Beth Anderson, Plant Health & Seeds Inspector APHA
Find out more
On their website, the Royal Society of Biology is hosting a calendar of events to show what is happening during Biology Week. Why not have a look and see if there is something you can take part in.
If reading this blog has inspired you to become part of the team at APHA, our jobs are advertised on Civil Service Jobs – click on 'advanced search' and select Animal and Plant Health Agency from the department drop-down menu.
Additionally, be sure to follow our Facebook page as we regularly post about new job opportunities.
You may also be interested in reading some of these blogs about other roles at the Agency: